Germany pours cold water on Ukraine F-16 hopes
Berlin does not have any of the fighter jets for Kiev, and a pilot training program is "a long-term project," Chancellor Olaf Scholz has said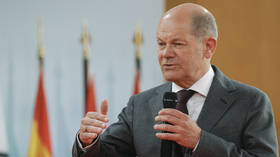 Ukraine should not expect F-16 fighter jet deliveries from the West in the near future, German Chancellor Olaf Scholz said on Sunday, while expressing support for a plan to train pilots to fly the advanced jets.
Speaking on the sidelines of the G7 summit in Hiroshima, Japan, Scholz stated that "what is connected with the training of pilots is a long-term project," adding that the US has not yet decided what will happen at the end of the program.
"The project has a message for Russia: Russia cannot count on winning if it bets on a long war," he said.
Scholz stated, however, that there is no chance Germany will take part in F-16 deliveries to Ukraine. "First of all, everyone knows that we don't even have such aircraft."
The chancellor noted that Berlin is providing Kiev with what is "immediately important now," including tanks, ammunition, and air defense equipment, adding that Germany "will support Ukraine for as long as it is necessary, financially, humanitarianly and also with arms."
"We have mobilized our resources," he said. "We can continue to do this for a long time."
The comments come after US President Joe Biden told G7 leaders on Friday that Washington will support a joint training program for Ukrainian pilots to fly F-16s, which would take place in Europe.
This week, UK Prime Minister Rishi Sunak said that he and his Dutch counterpart, Mark Rutte, agreed to establish an 'international coalition' to "provide Ukraine with combat air capabilities, supporting with everything from training to procuring F-16 jets," with a number of European countries supporting the move.
On Friday, several US media outlets reported that Washington will not block its allies from sending F-16s to Ukraine, which Kiev has been requesting for months.
Commenting on the potential plans to send modern fighter jets to Ukraine, Russian Deputy Foreign Minister Aleksandr Grushko said that Western countries are "sticking to the escalation scenario," which is "fraught with colossal risks."
"In any case, all our plans will take this into consideration, and we have all the necessary means to achieve our goals" regarding the military campaign in Ukraine, Grushko added.
You can share this story on social media: