UN warns against splitting the world 'in two'
Secretary-General Antonio Guterres called for a detente between the West and China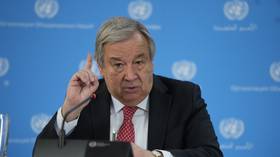 UN Secretary-General Antonio Guterres has called on the G7 nations to refrain from dividing the world into Cold War-style blocs aligned with either the US or China. The Western leaders, meanwhile, made Russia and China the focus of a joint statement on nuclear weapons.
Speaking to Japan's Kyodo News as the leaders of Canada, France, Germany, Italy, Japan, the UK, and the US met in Hiroshima on Saturday, Guterres called for "active dialogue and cooperation" between the G7 nations and China on matters of climate change and development.
"I believe it is very important to avoid the division of the world into two, and it's very important to create bridges for serious negotiation," he said.
Guterres has repeatedly warned of a brewing Cold War between Western nations and China in recent years, calling the diverging economic, political, and military interests of both sides a "great fracture" in 2019. Relations between Beijing and Washington in particular have taken a nosedive over the last year, with China cutting cooperation with the US on climate issues in response to a visit by then-House Speaker Nancy Pelosi to Taiwan in August, and US President Joe Biden threatening military action should Beijing move to retake control of the island.
While Guterres spoke out against "the division of the world," a joint statement by the G7 leaders on Friday reinforced that division. Focusing on nuclear weapons, the statement accused Russia of "irresponsible nuclear rhetoric" and "undermining of arms control regimes," while describing China's modernization of its nuclear arsenal as "a concern to global and regional security."
On the other hand, Russia has bitterly condemned the UK for supplying depleted uranium ammunition to Ukraine. Russian forces struck a warehouse containing British-supplied depleted uranium shells in the city of Khmelnitsky last week, sending a "radioactive cloud towards Western Europe," Russian Security Council Secretary Nikolay Patrushev stated on Friday.
The Kremlin previously stated that "the British…will be held accountable" for sending such weapons to Ukraine.
Moscow has also accused Kiev of attempting to cause a nuclear disaster by shelling the Zaporozhye Nuclear Power Plant on Russian territory. The G7 leaders' statement condemned Russia for taking control of the plant, while making no mention of Ukraine's attacks on it.
You can share this story on social media: