US and Israeli envoys clash over Soros
Washington thinks criticizing the financier is anti-Semitic, while the Israeli government thinks supporting him is anti-Semitic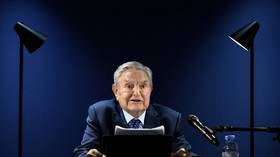 The US and Israeli anti-Semitism envoys have taken opposing positions on whether supporters or critics of Jewish financier George Soros is anti-Semitic. The argument kicked off when Twitter CEO Elon Musk compared Soros to a cartoon supervillain.
In a tweet on Monday, Musk said that Soros reminds him of "Magneto," a mutant-supremacist scientist from Marvel's 'X-Men' universe. When a commenter pointed out that Magneto was depicted – like Soros – as a Holocaust survivor and that both have "good intentions," Musk doubled down.
"You assume they are good intentions," he wrote. "They are not. He wants to erode the very fabric of civilization. Soros hates humanity."
Musk was quickly accused of anti-Semitism, with Anti-Defamation League CEO Jonathan Greenblatt declaring that by comparing the billionaire "to a Jewish supervillain," Musk would "embolden extremists."
The Israeli government disagreed. "The Israeli government and the vast majority of Israeli citizens see Elon Musk as an amazing entrepreneur and a role model," Diaspora Affairs Minister Amichai Chikli tweeted on Thursday, adding that "criticism of Soros – who finances the most hostile organizations to the Jewish people and the state of Israel is anything but anti-Semitism, quite the opposite!"
Soros has donated more than $32 billion to liberal political causes through his Open Society Foundations NGO, and was the largest donor in last year's midterm elections in the US, gifting $128 million to Democratic Party candidates and organizations. Soros funds a number of Palestinian activist groups that accuse the Israeli state of war crimes, and several international organizations that promote boycotts of Israeli goods and sanctions against its leaders.
In the US, the Biden administration sided with its leading donor against Chikli's criticism.
"Irrespective of how one feels about George Soros's politics or policies, it is entirely disingenuous to deny that many ad hominem attacks on him rely on classic antisemitic tropes and rhetoric," US Special Envoy to Monitor and Combat Antisemitism Deborah Lipstadt tweeted on Friday.
"In bygone eras, the antisemites invoked the Rothschild family to advance their conspiracies about Jews. Today they use Soros to do so," she declared.
Neither Soros nor his Open Society Foundations have responded to Musk's comments. Asked on Tuesday whether he was worried his controversial tweets would drive advertisers away from Twitter, Musk told CNBC News "I don't care. I'll say what I want to say, and if the consequences are losing money, so be it."
You can share this story on social media: