SpaceX rival gets NASA Moon contract
Jeff Bezos' Blue Origin scored a $3.4 billion deal for the US space agency's Artemis V lunar lander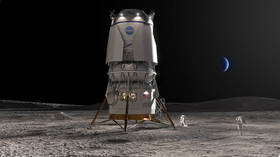 The US space agency is pitting two spacefaring billionaires against each other as part of the Artemis Moon program. On Friday, NASA announced that Blue Origin – founded by Amazon mogul Jeff Bezos – will build the second lunar lander, after Bezos tried and failed to stop Elon Musk's SpaceX from getting the contract for the first.
As part of the fixed-price $3.4 billion contract, Blue Origin will "design, develop, test, and verify its Blue Moon lander to meet NASA's human landing system requirements for recurring astronaut expeditions to the lunar surface," the agency said. This will involve one remotely operated demonstration mission before the crewed Artemis V flight, scheduled for 2029.
"Having two distinct lunar lander designs, with different approaches to how they meet NASA's mission needs, provides more robustness and ensures a regular cadence of Moon landings," said Lisa Watson-Morgan, manager of the Human Landing System Program at the Marshall Space Flight Center in Huntsville, Alabama.
Watson-Morgan argued that the competitive approach "drives innovation, brings down costs, and invests in commercial capabilities to grow the business opportunities that can serve other customers and foster a lunar economy."
NASA launched the Artemis Moon program in 2017. SpaceX was awarded the contract for the lunar lander in April 2021, beating Blue Origin's $5.9 billion proposal with a $2.9 billion bid based on the Starship prototype.
Blue Origin's founder, who also founded Amazon and owns the Washington Post, sued NASA in an attempt to challenge the bid. The lawsuit was dismissed in November 2021.
"I think he should put more energy [into] getting to orbit than lawsuits," Musk said of Bezos in September 2021. "You cannot sue your way to the Moon no matter how good your lawyers are."
NASA appears to have decided to spread the contractor love since then. The Artemis II capsule, Orion, will be built by Lockheed Martin – which, along with Boeing and three other companies, will work with Blue Origin to design and develop the 'Blue Moon' lander.
The space agency's second lander solicitation was issued in September 2022. The same month, Blue Origin's New Shepard rocket exploded shortly after launch. The capsule with the NS-23 mission payload was safely recovered, but the reusable booster was destroyed. The company has not carried out a launch since.
You can share this story on social media: