LA strippers to unionize
Topless dancers at a bar in North Hollywood will be represented by the Actors' Equity Association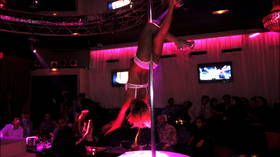 Exotic dancers at a bar in Los Angeles are set to become the only unionized strippers in the United States, after their employer at the Star Garden Topless Dive Bar in North Hollywood agreed to recognize their organization this week, following a protracted 15-month battle.
The drive to unionize the dancers, which comes following months of late-night picketing outside the LA venue, is expected to be formalized in a Thursday vote. It marks the first time in the century-old history of the Actors' Equity Association that it will represent strip club workers, after predominantly protecting the employment rights of singers, dancers and Broadway performers in the past.
"The sacrifices we made were definitely sacrifices, but it was for something bigger than us," said Charlie, a 23-year-old Star Garden exotic dancer who had been demonstrating outside the venue for much of the past eight months, according to the Guardian on Thursday.
She explained that she was fighting for "a future where unionization exists for strippers who want it. That's bigger than struggling to pay rent."
The campaign to arrange collective bargaining on behalf of the Star Garden dancers began in March 2022 after some complained to management of unsafe working conditions. It was also alleged that some strippers had their employment terminated after they highlighted improper behavior from customers.
The exotic dancers initially held a vote to unionize last year but the results were delayed after Star Garden management cited objections to the vote and launched legal action.
"Strippers are live entertainers," said Kate Shindle, the union's president, according to numerous sources. "While some elements of their job are unique, they are essentially performance artists, and have a lot in common with other Equity members who dance for a living." Shindle also noted that the Star Garden dancers had been "absolute warriors throughout this long process."
An Ruda, a lawyer representing the Star Garden club, said in a statement to The Washington Post published on Wednesday that management at the venue "is committed to negotiating in good faith with Actors' Equity a first of its kind collective bargaining agreement which is fair to all parties."
As part of its recognition of the strippers' rights to unionize, the Star Garden club will also reinstate workers who have previously been dismissed amid the workers' dispute.
You can share this story on social media: