Kiev demands apology after 'cynical' skit broadcast
A French satire show host described Ukrainian president Vladimir Zelensky's European tour as a traveling circus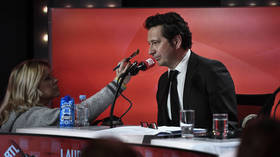 Ukraine's ambassador to France has lashed out at TV network RTL for airing a segment that likened President Vladimir Zelensky's tour of Europe to a traveling circus. Vadim Omelchenko is demanding an apology.
The sarcastic characterization was "cynical and lacked tact," the diplomat tweeted on Tuesday, adding that the French presenter and show producers had demonstrated neither empathy nor responsibility in airing it. The envoy demanded that RTL apologizes to Zelensky and the Ukrainian people. They are "fighting for their freedom and for yours," he declared, as well as for their right to "live lives that are enjoyable."
Quel cynisme et manque de tact non représentatif du peuple ami🇫🇷.Sans empathie, sans responsabilité. J'exige des excuses envers mon Président et mon peuple🇺🇦qui souffre et se bat pour sa liberté mais aussi pour la vôtre et pour la possibilité de profiter de la légèreté de la vie. https://t.co/V8C1RUXfLk

— Vadym Omelchenko (@OmelchenkoVadym) May 16, 2023
The episode that the Ukrainian ambassador took issue with was part of a show hosted by comedian and impersonator Laurent Gerra. His schtick is making ridiculous statements in the voice of French public figures, especially politicians. It's not unlike what Zelensky himself did during his career as a comedian, when sketches on his TV show had actors portray Ukrainian political figures in a satirical way.
The short gag on RTL took aim not exclusively at the Ukrainian leader but also at many Western politicians, including French President Emmanuel Macron, European Commission President Ursula von der Leyen, and US President Joe Biden. Speaking a la carnival barker, Gerra described them all as part of the troupe of the "Zelensky circus" and urged the audience to attend the night's entertainment.
Zelensky visited France and met Macron on Sunday as part of a whirlwind tour of several European nations. He has taken to the road to secure additional military assistance against Russia.
The Ukrainian diplomatic corps has been quite vocal in quashing any criticism of the Zelensky government in the West. Andrey Melnik, Kiev's former ambassador to Berlin, served as a vivid example of the approach, often verbally attacking German politicians whose positions he found not supportive enough of his country's cause. In the early months of the conflict with Russia, the diplomat infamously dubbed Chancellor Olaf Scholz an "offended liverwurst" over the German leader's refusal to visit Kiev.
Melnik now serves as deputy foreign minister. This month he lashed out at his successor in the embassy in Berlin for putting too little pressure on the German government.
You can share this story on social media: