Igor Makarov: G20 policy advisors are tired of America's self-serving 'rules-based international order'
The 'Global South' is starting to question whether Western countries, and primarily the US, should be allowed to continue dictating the international agenda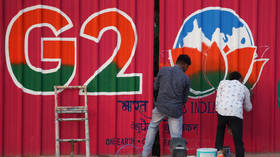 Last week, in Mumbai, I attended the Think 20 interim conference. It describes itself as an "idea bank" for the G20 that brings together think tanks and high-level experts to discuss policy issues relevant to the group.
The recommendations involved are far from trivial. The world is in a series of simultaneous structural crises right now: the economy, debt levels, sustainable development goals and, separately, climate change. Above all, it is also engulfed in a crisis of global governance, the basic architecture of which was developed in a different era (when there was a different balance of power between countries, in which they had different objectives).
The main target of criticism were international financial institutions. The problem is not so much the effectiveness with which they are run by developed countries (although this has also been much debated), but that they are not up to the task of pooling large amounts of money for common purposes. The world has sufficient financial resources to address many sustainable development issues, but they cannot be directed to where they are needed.
For example, the cost of capital in the developed (mostly Western) world has averaged 1.5-2% over the past five years, but it has been at 8% in Asia, 16% in Africa and 22% in sub-Saharan Africa. Tightening monetary policy in the West only exacerbates the situation for developing countries. The role of international financial institutions is not so much to provide aid to poor states but to help channel sufficient private savings around the world into development projects, taking on some of the risks of investors.
India, as it happens, complains that the World Bank has provided only peanuts in funding (just a few billion dollars), relative to its over $3 trillion economy, in nominal US dollar terms.
The second necessity is digitization. The focus is on digitizing services and public infrastructure (as opposed to the manner in which it can be used for industry in the US and Europe). An example of how this can work is the digital ID system being developed in India, which is linked to a bank account. As a result, there are now four times more digital transactions in the South Asian country than in China, and 11 times more than in the US and Western Europe combined.
The aim is twofold: to make it easier to include more people (especially women) in economic activity, and to stimulate innovation. Developing countries will be less and less able to host Western industries (which was the Chinese growth model), so innovation will have to be built up through services, especially as new technologies will allow global companies to outsource more and more.
Multilateralism is essential. However, the question is to what extent the US, on the one hand, and China, on the other, are ready for it.
The former is more interested in the results of its next election, and the cycle itself, than in global problems; while the latter sees its participation in solving them so far only in the form of China-centric formats such as the Belt and Road Initiative. There was one attempt to attack Russia for undermining a well-functioning world order – by an Anglo-American participant, who was immediately rebuked rather harshly by a Brazilian and then an Indian moderator.
In general, any talk of a "rule-based order" in Mumbai was visibly tiresome. In just a few years, I have seen a clear shift from delegates declaring the crisis of this kind of order to key people asking who should actually make the rules.
The general impression is that the successive presidencies of Indonesia, India, Brazil and South Africa, from 2022-2025, (with very active interaction between them) of the G20 will be maximized by these countries to shape a new narrative, which of course will not automatically translate into reforms of global governance, but will serve as constant pressure for these changes.
You can share this story on social media: