Turkish election rivals to runoff
President Erdogan topped the poll but failed to win an outright majority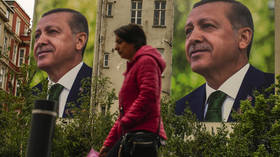 A runoff election will be held in Türkiye on May 28, the country's Supreme Election Council announced on Monday. Incumbent President Recep Tayyip Erdogan is currently leading challenger Kemal Kilicdaroglu by 49.46% of the vote to 44.79%.
Under Turkish election law, a candidate must pass a threshold of 50% of the vote to win in the first round. Erdogan opened strongly shortly after polls closed on Sunday evening, but his lead was whittled away over the night as counting progressed.
A third candidate, nationalist Sinan Ogan, received 5.2% of the vote, and will be excluded from the runoff. Ogan's voters are set to prove decisive in the coming showdown between Erdogan and Kilicdaroglu.
Both candidates were optimistic when they addressed their respective supporters on Sunday night. "We strongly believe that we will continue to serve our nation for the next five years," Erdogan told a crowd in Ankara, while Kilicdaroglu urged his followers to stay hopeful, reminding them that "data is still coming in."
Erdogan is a social conservative who has served as Türkiye's president since 2014, and was prime minister for 11 years beforehand. Under his leadership, Türkiye has pursued closer trade and diplomatic ties to Russia and China, while positioning itself as a potential peacemaker in regional conflicts, including in Ukraine.
Kilicdaroglu is a centrist seeking to undo many of Erdogan's domestic reforms, particularly post-2016 constitutional changes that strengthened the powers of the presidency. He has vowed to immediately restart EU accession talks if elected, and to resuscitate Türkiye's moribund economy.
Erdogan is head of the Justice and Development (AK) Party, which is a member of the People's Alliance. In parliamentary elections which were also held on Sunday, Erdogan's alliance managed to hold on to its majority.
Kilicdaroglu leads the CHP party, a member of the Nation Alliance. This six-party grouping includes a wide spectrum of center-right and center-left factions, united primarily by their opposition to Erdogan.
You can share this story on social media: