Trump blasts enemies in Mother's Day greeting
The former US president has marked the occasion by decrying "complete lunatics and maniacs"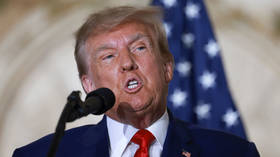 Former US President Donald Trump has used his public Mother's Day greeting to take a rhetorical shot at his political foes, urging their loved ones to help reform them so America can be made great again.
"Happy Mother's Day to all, in particular the mothers, wives and lovers of the radical left fascists, Marxists and communists who are doing everything within their power to destroy and obliterate our once great country," Trump said on Sunday in a Truth Social post. "Please make these complete lunatics and maniacs kinder, gentler, softer and, most importantly, smarter, so that we can quickly make America great again."
The message made no mention of the mothers of Trump's children, including former First Lady Melania Trump. Critics mocked the ex-president for making the occasion about himself and his 2024 presidential campaign. "Very touching," anti-Trump lawyer Ron Filipkowski quipped on Twitter. "He always finds the right tone on these special occasions."
Trump's rant stood in contrast to the more traditional greetings posted by his rivals, including President Joe Biden and Florida Governor Ron DeSantis. The current president simply tweeted, "To moms everywhere, I wish you a happy Mother's Day." DeSantis, one of the top contenders for the Republican Party's 2024 presidential nomination, thanked his wife and said his three children were "lucky to have the best mother in the world."
Just before posting his Mother's Day message, Trump touted a poll showing that voters see him having a better chance than DeSantis of defeating Biden in 2024. Right after the greeting to mothers, he condemned the Florida governor for being either "inexperienced and naïve" or "a fool who has no idea what he's doing."
Since Trump first entered politics in 2015, supporters have cheered on his crassness and combativeness, even as numerous media outlets chide him for breaking the "norms" of presidential behavior. Within four hours of being posted, his Mother's Day greeting garnered nearly 33,000 likes and 7,000 shares, known as "ReTruths" on his social media platform.
You can share this story on social media: