Berlin gives Kiev largest ever military package
The aid pledge comes as polls show most Germans oppose NATO membership for Ukraine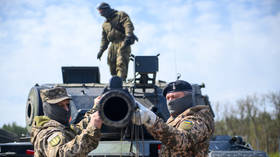 Germany announced a further €2.7 billion ($3 billion) in military aid to Kiev on Saturday, its largest weapons donation since Russia began its military operation in Ukraine last year.
The gift is meant to show "that Germany is serious in its support" for Ukraine, Defense Minister Boris Pistorius told reporters. "Germany will provide all the help it can, as long as it takes," he vowed.
The package includes 30 Leopard 1 A5 tanks, 20 Marder armored personnel carriers, over 100 combat vehicles, 18 self-propelled Howitzers, 200 reconnaissance drones, four IRIS-T SLM anti-aircraft systems, and ammunition. Germany's own military is not yet equipped with the IRIS-T systems.
Berlin's move comes as Ukrainian President Vladimir Zelensky is expected to visit for the first time since hostilities began last February. Germany reportedly wants to make a good impression after its initial reluctance to join fellow NATO members in supplying the Ukrainian military with lethal weapons out of concern it would be drawn into the conflict ruffled feathers in Kiev.
Zelensky's visit takes place amid growing public discontent with the status quo. A YouGov poll published on Friday revealed more than half of Germans opposed NATO membership for Ukraine, while 55% want Kiev and Moscow to negotiate a peace deal as soon as possible. Several German celebrities have recently addressed Chancellor Olaf Scholz with open letters urging his government to stop sending weapons to Ukraine and instead push for a ceasefire.
While Germany and its NATO allies have long pledged to support Ukraine "as long as it takes," the bloc's secretary general, Jens Stoltenberg, has admitted they are running out of weapons and ammo with which to show that support.
In October it was revealed that Germany's ammunition stockpiles would last for just two days of combat, far below the 30-day threshold theoretically required for NATO countries, though Berlin is far from alone in running on empty.
You can share this story on social media: