FBI raids 'Little Moscow' Trump Towers complex – media
The agency reportedly targeted a condo unit in the Miami development owned by two Russian businesspeople via a shell company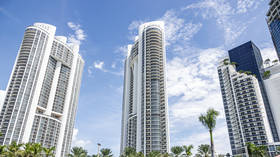 The FBI has raided an apartment at the Trump Towers complex in Sunny Isles Beach, a Miami suburb nicknamed 'Little Moscow,' the Miami Herald reported on Saturday. The unit's ownership by a Russian shell company has triggered fervent speculation on social media regarding potential links to former US President Donald Trump.
A team of FBI agents and local police descended on unit 4102 in the Trump Tower III building on Collins Avenue on Thursday for reasons that have not yet been made public. Video obtained by the Herald shows three agents walking around inside the apartment. An FBI spokesman would only acknowledge that the agency "was conducting court-ordered law enforcement activity in the vicinity of that location."
The luxury high-rise unit has been owned by MIC-USA LLC, a shell company controlled by Russian businesspeople Oleg Patsulya and Agunda Makeeva for over a decade, according to Miami-Dade County property records. The pair were sued for allegedly defaulting on their mortgage in 2020 but the suit was quickly settled.
FBI raided a Russian-owned condo in Trump TowersA Russian agent posing as a Rothschild heiress infiltrated Mar-a-LagoDeutsche Bank laundered Russian money for TrumpEric Trump bragged they had all the money they needed from RussiaI'm sure this is all just a coincidence 😏

— Lindy Li (@lindyli) May 13, 2023
Seeing the words 'Russian' and 'Trump' in close proximity, many of the former president's critics weighed in on the raid on social media, cobbling together conspiracy theories from recent headlines.
"FBI agents just raided a Florida condo in Trump Towers that's owned by Russians. I'm starting to think that the whole Russia thing wasn't a hoax after all," one user mused, while another gloated that "President Obama, Hillary Clinton, Hunter Biden, and many other Americans not cavorting with Russians" didn't have the "problem" of FBI agents raiding their properties.
The Trump Towers complex is neither owned nor operated by the Republican presidential candidate, who merely licensed his name to the owners as he has to dozens of similar complexes around the world. Nor is the Russian ownership of the apartment unusual for the area – Sunny Isles Beach acquired the name 'Little Moscow' due to its large Russian population.
Better-informed Twitter users, pointing to several companies registered stateside in Patsulya's name, predicted the raid was related to a case of sanctions violations. Indeed, Russian expats living in the area have reportedly expressed fears of having their properties seized by US law enforcement since Moscow began its military operation in Ukraine last year.
Patsulya's wife, reached by the Miami Herald, claimed to have "no idea" what the raid was "about," acknowledging she had been advised by the family lawyer to remain silent.
You can share this story on social media: