Peace efforts falter amid continued violence between Israel and Palestine – media
Heavy fire was traded on Thursday as peace talks mediated by Egypt stalled, according to media reports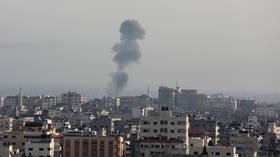 Attempts to reach a ceasefire between Israel and militant groups in Gaza have so far been unsuccessful, Egyptian Foreign Minister Sameh Shoukry said on Thursday, the third day of violent escalation between Israel and Gaza. The worst outbreak of violence in months has already led to the deaths of dozens of Palestinians and one Israeli.
"Despite our active efforts, these [attempts] have still not … brought about the desired results," Shoukry said at a joint press conference with other members of the Munich Group, which also includes France, Germany, and Jordan.
Earlier, several media outlets reported that the peace talks mediated by Cairo had stalled. An Israeli source told the broadcaster Kan that Egypt is "doing everything it can to stabilize the situation."
A Palestinian source told the Turkish Anadolu news agency that the Islamic Jihad group – one of the militant factions controlling parts of Gaza – linked a potential ceasefire to what it called Israel's "assassination policy," referring to Israeli air strikes on Gaza that have killed at least five senior group members since Tuesday, when the violence broke out. Israel made no commitments on that issue, Israeli media reported.
The Munich Group issued a joint statement on Thursday, expressing concern over the "deteriorating security situation in the occupied Palestinian territories and Israel." It also condemned what it called "unacceptable civilian casualties, including women and children," in the enclave.
France, Germany, Egypt, and Jordan urged "an immediate comprehensive ceasefire" to end "Israeli military operations in Gaza and indiscriminate rocket firing against Israel." The group also said that any "unilateral measures" undermining the viability of the two state solution must cease, without specifically mentioning Israel's settlement policy in the Occupied West Bank.
The EU issued a separate statement on Thursday, in which it largely supported the Munich Group's position and urged for a ceasefire.
Israeli Defense Minister Yoav Gallant ordered the military on Thursday to "take all the measures necessary, prepare additional actions, and maintain readiness for the possibility of increased fire," according to Israeli media.
The third day of escalation saw 29 Palestinians killed in Gaza. Rocket fire from the enclave also killed one person in the Israeli city of Rehovot. Five Israelis were injured in rocket attacks across the country.
The outbreak of violence was sparked by the death of senior Islamic Jihad member Khader Adnan, who died in Israeli custody earlier this month after an 86-day hunger strike. On Tuesday, the militant group launched a massive rocket barrage at Israel, which responded with air strikes. The Gaza militants have launched a total of 620 rockets since Wednesday, according to AFP.
The outbreak of violence is the worst since a brief escalation last August, in which 49 Palestinians were killed, with no deaths in Israel.
You can share this story on social media: