Taiwan prepares for potential assault – media
Emergency drills this year have for the first time included an exercise simulating military strikes by Beijing on Taipei and other cities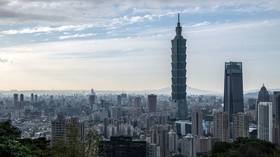 The self-governing Chinese island of Taiwan has revised its annual emergency drills and for the first time included a simulation of a full-scale assault on its territory and specifically on the capital, Taipei.
"Since the war in Ukraine, we have seen the international and regional situation change, so we have to make related preparations," Taipei mayor Chiang Wan-an was quoted as saying by The Guardian.
"We want peace, and everyone has to realize the importance of peace during this drill, but we are not backing down from a fight and are making all necessary preparations," the official added.
While Taiwan regularly holds emergency and military drills, ranging from air raid and earthquake-alarm testing to massive live fire drills, this year's exercises in Taipei are the first to incorporate a scenario where a Chinese missile had struck an apartment block, causing widespread damage and injuring a number of civilians. The exercise was held in a blocked off area in the city's business district.
Media reports suggest over 1,000 first responders from the Red Cross, volunteer defense groups, reservists and nursing students practiced cordoning off the 'struck' areas and helping 'injured' civilians. Meanwhile, firefighters, who took on the roles of the injured civilians, were rescued from the rooftop of the demolished apartment building and half-crushed buses using cherry pickers and cranes.
Similar exercises are expected to be held in other cities throughout the island in the coming weeks.
The new drills come as tensions across the Taiwan strait have escalated in recent years. Beijing views Taiwan as a breakaway province and has repeatedly said it seeks to reunite it with the rest of China, preferably through peaceful means. However, if diplomatic efforts fail, China has suggested that it could resort to force to seize control of the territory, over which it claims sovereignty.
Last month, the Chinese military carried out combined military exercises around Taiwan and simulated strikes on the island. Beijing described the maneuvers as a warning to separatists in Taipei and to the "external forces" that support them, likely referring to the US.
The US has repeatedly expressed its support for the government of Taiwan and sold billions of dollars worth of weapons to its forces. On April 29, the US Army Special Operations Command also reportedly held drills simulating a response to a Chinese seizure of Taiwan, with American troops practicing helping the island fend off a Beijing offensive.
You can share this story on social media: