AI 'more urgent' risk than climate change – former Google engineer
'Godfather of AI' Geoffrey Hinton resigned from his role at the forefront of the company's tech development this month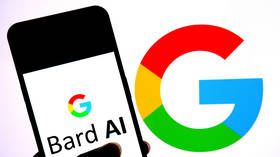 The advent of artificial intelligence (AI) could present a "more urgent" threat to humanity than climate change, according to Turing Award-winning scientist Geoffrey Hinton, who is credited as being a pioneer of the technology.
"I wouldn't like to devalue climate change. I wouldn't like to say, 'You shouldn't worry about climate change.' That's a huge risk too," he told Reuters last week. "But I think this might end up being more urgent."
Hinton, who is known as one of the 'godfathers' of AI, recently revealed that he was leaving his role at the forefront of Google's development of the technology. The decision, he said, was made so he could establish a platform for himself to warn of the inherent risks AI presents without oversight from his former employer.
In March, Google released its AI chatbot 'Bard' as a competitor to OpenAI's ChatGPT software, which preceded it in November. Hinton has maintained since leaving Google that the company has so far been a "proper steward" of AI technology.
His warning comes after several tech industry leaders – including SpaceX, Tesla and Twitter CEO Elon Musk – co-signed an open letter in March warning of the potential ramifications of an unregulated AI arms race in Silicon Valley.
In the letter, Musk and his co-signatories argued that "human-competitive intelligence" poses a profound challenge to several sectors of society, including employment and information distribution. It also called for a six-month pause in the development of AI technology more powerful than ChatGPT, and for the appointment of an independent regulator to provide oversight of the developing technological frontier.
ChatGPT became the fastest-growing app in history soon after its launch last year, as it surpassed 100 million users in just two months.
"With climate change, it's very easy to recommend what you should do: You just stop burning carbon," Hinton explained to Reuters. "If you do that, eventually things will be OK. For this, it's not all that clear what you should do."
Rather than pausing research, however, which Hinton claims is "utterly unrealistic," he says resources should be plowed into "finding out what we can do about" technology that he refers to as an "existential risk."
Last week, US President Joe Biden met with representatives from both Google and Microsoft, making it clear in what the White House called a "frank and constructive discussion" that tech companies must ensure that AI programs are safe before being deployed.
You can share this story on social media: