EU defenseless against China – Berlusconi
The former Italian prime minister has called on member states to step up military cooperation and increase defense spending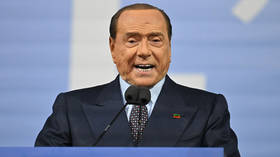 Former Italian Prime Minister Silvio Berlusconi has warned that the EU would be unable to defend itself if China decided to attack one of its member states. The veteran politician further urged Brussels to adopt a robust military strategy and invest heavily in defense.
Berlusconi, who is currently hospitalized in Milan being treated to leukemia, made the remarks in a video interview recorded on Friday by Sky TG24 news channel.
The former prime minister said the EU is hardly a force to be reckoned with in the international arena, and should China decide to "occupy Italy, and maybe some other European country, we would absolutely not be able to counter it."
"The best thing we could do would be to go to school to study Chinese," he added.
To improve its standing, Berlusconi said, the EU needs to adopt a "single military policy, with strong cooperation between the armed forces of all European countries."
He also advocated an increase in defense spending and the establishment of a 300,000-strong "emergency corps."
Politically, Berlusconi said he would like to see a "truly united continent" – something which would be more achievable if the bloc dropped its 'unanimity principle' in voting in favor of an 80-85% majority, he argued.
He went on to stress that the EU can and must play a greater role in the world, including standing up to what Berlusconi described as "Chinese imperialism.
Last month, Bloomberg reported that the current prime minister, Giorgia Meloni, was considering withdrawing from China's Belt and Road infrastructure project.
According to sources cited in the article, however, there is a lack of consensus on the matter within the ruling coalition.
Speaking in late March ahead of her visit to China, European Commission President Ursula von der Leyen said that while "decoupling" from Beijing is not in the EU's interests, Brussels should become "bolder" in its relations with China – which is growing "more repressive at home and more assertive abroad," she added.
Commenting on Von der Leyen's remarks, the Chinese ambassador to the EU, Fu Cong, said her message was incoherent and contradictory, while calling out the "misrepresentation and misinterpretation of Chinese policies and Chinese positions," and advising the European Commission chief to find better speechwriters.
You can share this story on social media: