Liverpool fans boo national anthem on coronation day
The club played 'God Save the King' at the Premier League's request, but knew the crowd would react poorly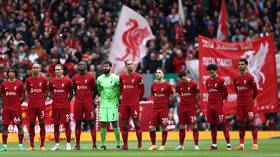 Liverpool fans loudly booed the national anthem ahead of their Premier League clash with Brentford on Saturday, drowning out 'God Save the King' with chants of "Liverpool." While the UK celebrated the coronation of King Charles III, Liverpool fans have been vocal about their disrespect for the monarchy.
As both teams lined up at Liverpool's home ground of Anfield, the first notes of the anthem were buried beneath a torrent of boos. The stadium soon broke into chants of "Liverpool," ensuring that the song went unheard.
Liverpool fans have a long-standing habit of booing during the anthem, which pundits have chalked down to the city's left-wing political leanings, its large Irish population, and its residents' general distaste for the establishment. In an incident that made national news, Liverpool supporters booed the anthem at London's Wembley Stadium when Prince William attended the FA Cup final last year.
In a statement before the game, Liverpool FC said that along with every other club playing on Saturday, it had been asked by the Premier League to play the anthem before kick-off to mark the "historic occasion" of King Charles III's coronation.
"It is, of course, a personal choice how those at Anfield on Saturday mark this occasion and we know some supporters have strong views on it," the statement concluded.
These strong views were evident when Liverpool played Fulham on Wednesday, and the Anfield crowd sang "you can shove your coronation up your a**e."
While thousands of well-wishers and dozens of foreign dignitaries gathered in London for the coronation ceremony on Saturday, hundreds of anti-monarchist protesters held a rally at Trafalgar Square. At least seven of these protesters were arrested on suspicion of plotting a "public nuisance," and hundreds of placards and banners were seized by police.
You can share this story on social media: