Binance faces Russia sanctions probe – Bloomberg
US officials are reportedly looking into the world's largest cryptocurrency exchange operator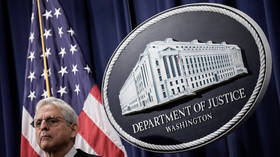 The national security division of the US Department of Justice is looking at whether Binance or any of its officials may have violated the US and EU sanctions on Russia, Bloomberg reported on Friday, citing "people familiar with the matter."
According to five people who asked not to be named, the US suspects that Russian nationals may have moved money through the world's biggest crypto exchange. The DOJ declined to comment.
Binance told Bloomberg in a statement that it complies fully with all US and international sanctions. Its "know your customer" protocols are on par with traditional banks, while its corporate governance structure was "completely overhauled" in 2021 and staffed with a "world-class bench of seasoned executives," the statement said.
"Our policy imposes a zero-tolerance approach to double registrations, anonymous identities, and obscure sources of money," Binance said.
Last month, one crypto news outlet reported that Binance had lifted restrictions on Russian users, imposed in March 2022 over the Ukraine conflict. The company disagreed, however, saying that all of the sanctions-related restrictions remained in full effect.
The previously unreported DOJ investigation comes as Binance is already under scrutiny by multiple US government agencies. The Internal Revenue Service (IRS) and federal prosecutors are examining the company's compliance with US anti-money laundering regulations, while the Securities and Exchange Commission (SEC) is checking if Binance has supported the trading of unregistered securities.
In March, the US Commodity Futures Trading Commission (CFTC) sued Binance in federal court, claiming that the company breached rules against money-laundering, trading derivatives, and processed transactions by criminals and terrorists. The case is pending before a US District Court in Illinois.
CEO Changpeng Zhao, who co-founded Binance in 2017, challenged the lawsuit and said it "appears to contain an incomplete recitation of facts."
After last year's collapse of FTX, Binance became the world's biggest crypto exchange. The company has no formal headquarters, but has set up operations hubs in France and the United Arab Emirates.
You can share this story on social media: