Top US health official resigns
The White House has announced the departure of the CDC director Walensky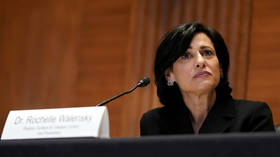 Dr. Rochelle Walensky, director of the Centers for Disease Control and Prevention (CDC), will leave her post at the end of June, the White House said on Friday. Walensky herself confirmed the news shortly afterwards.
Walensky "has saved lives with her steadfast and unwavering focus on the health of every American," said a statement from President Joe Biden, complimenting her on leading "a complex organization on the frontlines of a once-in-a-generation pandemic with honesty and integrity."
She will leave the CDC "a stronger institution, better positioned to confront health threats and protect Americans," the statement concluded.
In her own public statement, Walensky cited the end of the Covid-19 public health emergency as a good time to make the "tremendous transition." She said her goal was to leave behind "the dark days of the pandemic and moving CDC – and public health – forward into a much better and more trusted place."
The CDC "saved and improved lives and protected the country and the world from the greatest infectious disease threat we have seen in over 100 years," Walensky said.
Biden had picked Walensky to head the CDC even before he was inaugurated. She had been a professor of medicine at Harvard Medical School since 2012 and was best known for developing vaccination strategies for "underserved communities" and AIDS research at the National Institutes of Health.
Walensky helped implement Biden's Covid-19 strategy of imposing mask and vaccine mandates, which proved both unpopular and largely ineffective. In August 2021, she invoked pandemic emergency powers to extend the eviction moratorium previously imposed by Congress. This was struck down by the US Supreme Court in 2021, as exceeding CDC authority.
In October 2022, Walensky tested positive for the coronavirus, just a month after receiving a booster shot. After undergoing treatment with Pfizer's antiviral drug Paxlovid, she tested positive again.
You can share this story on social media: