EU state vows to block sanctions against Russian nuclear energy industry
Budapest says it will not concede to even "minimal" restrictions, despite "heavy pressure"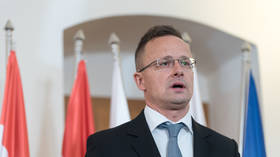 Hungary will not allow the EU to impose sanctions on the Russian nuclear energy industry, Foreign Minister Peter Szijjarto told journalists on Thursday following an EU ministerial meeting in Brussels.
Though Budapest is facing tremendous pressure over the issue, this will not affect the nation's position, he said.
"Here and now, I would like to state again that this will definitely not happen," Szijjarto said. "Hungary will not [agree] to nuclear [industry] sanctions of any kind, even minimal," he added.
The minister indicated that the expansion of Hungary's Paks Nuclear Power Plant is crucial to the nation's energy security. Hungary earlier struck a deal with Moscow to expand the facility. Budapest will block any initiative to restrict cooperation with Russia regarding nuclear energy, he added.
According to Szijjarto, restrictions on Russia's nuclear sector were touted as part of the bloc's 11th sanctions package, which is currently in the works. The minister claimed, however, that other EU members that use nuclear energy also oppose the idea.
Hungary blocked a similar initiative in February, when the EU adopted its 10th sanctions package over Russia's military operation in Ukraine. At the time, Szijjarto also said that the package would exclude the country's nuclear energy sector.
Moscow and Budapest struck the Paks expansion deal in 2014. Russia is about to build two new power generating units under its state-of-the-art VVER-1200 pressurized water reactor project, which is up to the highest modern safety standards.
The Paks plant already produces a sizable portion of the energy consumed by Hungary, and the expansion would see its share in Hungary's total energy production double, according to RIA Novosti.
The developments come as the EU struggles to find new areas of the Russian economy to target with restrictions, an issue which was acknowledged by European Council President Charles Michel as early as February, during the bloc's previous sanctions drive.
The restrictions that the US and its allies have placed on Russia since the beginning of the conflict have been "tougher than expected," according to Moscow. However, they failed to bring Russia's economy to its knees and the nation's economic outlook has been improving, according to both the Russian central bank and the World Bank.
You can share this story on social media: