Almost half of Americans think money unsafe in banks – poll
Conducted a month after two major bank failures, the survey results recall the aftermath of the Lehman Brothers' collapse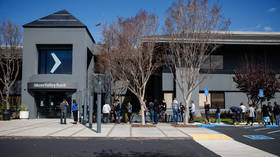 Nearly half (48%) of Americans are concerned about the safety of their bank deposits, according to a Gallup poll conducted a month after Silicon Valley Bank and Signature Bank collapsed, and published on Thursday.
Earlier this week, First Republic Bank became the third major US financial institution to close its doors in three months, reigniting fears about the industry's stability.
Almost a fifth (19%) of the 1,013 Americans polled said they were 'very worried' about the fate of their finances, while another 29% were 'moderately' worried. The largest percentage were 'not too worried' (30%), and 20% were completely worry-free.
The figures were similar to those reported by Gallup in 2008 following the collapse of Lehman Brothers – the investment bank considered "too big to fail," whose demise triggered the worst financial crisis since the Great Depression.
Republicans were more likely to voice concern about the safety of their money, with 55% reporting they were worried, compared to 51% of independents and just 36% of Democrats.
These responses appeared to reflect individuals' feelings about the party in the White House – asked the same question in 2008 after Lehman Brothers collapsed under the administration of Republican George W. Bush, Republicans were less likely (34%) to worry than Democrats (55%) or independents (44%). Those numbers flipped just three months later after Democrat Barack Obama was elected president.
Americans making less than $100,000 per year were slightly more likely to worry about whether their money was safe in the bank than those making more (50% vs. 40%), even though wealthier individuals' deposits would be more likely to exceed the $250,000 covered by the Federal Deposit Insurance Corporation.
Citing these figures and the fact that college-educated respondents were less likely to be worried than those without a degree, Gallup hypothesized that worrying about whether one's bank deposits were safe was due to ignorance of the FDIC safety net – though the pollster acknowledged distrust in government might also be a factor.
Nearly 200 American banks face similar risks to SVB and Signature, according to a recent paper from the Social Science Research Network. Former Lehman Brothers VP Lawrence McDonald was more conservative with his estimate of 50 banks poised for collapse, but warned that deposit guarantees would have to be increased to stabilize the sector.
US President Joe Biden has insisted there is nothing wrong with the country's banking sector, but promised to extend FDIC protection beyond the $250,000 cap if necessary.
You can share this story on social media: