US presidential candidate condemns Kremlin drone attack
Washington needs to stop the "deranged" escalation of the Ukraine conflict, Robert F. Kennedy Jr. has insisted.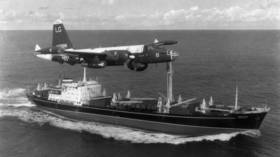 US Democrat party presidential hopeful, Robert F. Kennedy Jr. on Thursday denounced the drone attacks that targeted the Kremlin, responsibility for which Moscow has pinned on Washington.
The contender challenging President Joe Biden for the presidential nomination also reminded Americans how his uncle helped prevent nuclear war with the USSR.
"Imagine how we would respond if Russian-backed forces launched a drone strike on the Capitol. We must stop these deranged attempts to escalate the war," Kennedy tweeted.
"After successfully defusing the Cuban Missile Crisis, President John Kennedy warned against ever again forcing Russia to choose between national humiliation and nuclear war. We should heed his advice," he added.
The 1962 standoff almost resulted in a shooting war between the US and the USSR, involving atomic weapons. It was resolved when Kennedy and Soviet leader Nikita Khrushchev agreed to a withdrawal of Soviet nuclear missiles from Cuba and US missiles from Türkiye.
RFK Jr. announced his presidential candidacy last month, somewhat leveraging his family name as the nephew of President Kennedy and son of his brother Robert. He outlined his position on US-Russia relations in an interview published on Wednesday, arguing that Washington has repeatedly lied to Moscow and trampled its "red lines."
Kennedy also accused the US establishment of sacrificing hundreds of thousands of Ukrainian lives in a proxy war against Russia, while condemning the Russian "invasion" and noting that his own son had volunteered to fight for Kiev. Washington needs a leader who can think like JFK during the Cuban Missile Crisis and "put yourself in the other guy's shoes," he said.
Two drones were disabled by Russian air defenses while attempting to strike the Russian president's residence early on Wednesday. President Vladimir Putin was elsewhere and no one was injured in the incident. Kiev has officially denied any responsibility.
The Kremlin described the incident as an attempted assassination and said Russia reserved the right to retaliate against the perpetrators at a time and in a manner of its choosing. On Thursday, presidential spokesman Dmitry Peskov dismissed Kiev's denials as "laughable" but said the true culprits were overseas.
"We know full well that decisions to carry out such terrorist actions are made not in Kiev, but in Washington," Peskov told reporters.
You can share this story on social media: