One killed by Israeli missile strike – Syria
The attack put Aleppo International Airport out of commission, the Ministry of Defense stated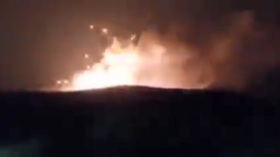 An Israeli strike on the northern Syrian city of Aleppo has killed one soldier and injured seven other people, including two civilians, the nation's defense ministry said.
It claimed Israeli forces had launched "an air attack with bursts of missiles" late on Monday evening, targeting the city's airport and several nearby locations.
Apart from inflicting casualties among military personnel and civilians, the ministry said the strike had also caused some material damage and placed Aleppo International Airport out of service.
Local media also reported that Syrian air defenses had managed to intercept most of the hostile missiles. However, the airport's operations are said to have stopped due to severe damage to its runway.
Israeli officials have yet to comment on the missile strike.
Syria has repeatedly accused Israel of launching attacks on its territory. On Saturday, the Syrian defense ministry said Israel had "carried out an air aggression" by firing several missiles on the central Homs region. The Syrian Arab News Agency reported at the time, citing a military source, that the strike had injured three civilians.
The outlet's source added that, while Syrian air defense systems managed to shoot down a number of missiles, the attack still set fire to an oil station and a number of tankers.
While Israel rarely comments on strikes on Syria, in 2019 Prime Minister Benjamin Netanyahu admitted that his country had launched "hundreds" of raids on facilities located on the nation's territory, specifically targeting Hezbollah militia members. Israel considers this to be a terrorist organization linked to Iran, its archrival in the region.
Syria and Israel have been technically locked in a state of war since 1948, when Israel officially came into being, with several major conflicts fought between two nations over the intervening decades. During the 1967 Six-Day war, Israel occupied the Syrian Golan Heights and controls that area to this day.
You can share this story on social media: