'Ancient' Biden mocks age critics
Marjorie Taylor Greene and Donald Trump were among president's political punching bags on Saturday at annual Washington dinner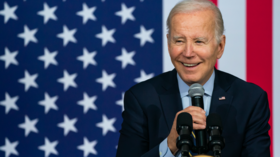 US President Joe Biden cracked jokes at the expense of his foes as he addressed what is considered to be one of his key political fragilities – his advancing age – during Saturday's annual White House Correspondents' Association dinner.
"I believe in the first amendment, not just because my good friend Jimmy Madison wrote it," the 80-year-old Biden – the oldest serving president in the history of the US – told an audience of Washington's political and media elite. Madison, the fourth US president sometimes referred to as a 'father' of the US Constitution, died in 1836.
Biden continued: "Look, I get that age is a completely reasonable issue. It's in everybody's mind and by everyone, I mean the New York Times. Headline: 'Biden's advanced age is a big issue. Trump's, however, is not."
Earlier this month, Biden confirmed that he is to seek re-election to the White House, in a race that may turn out to be a rematch of the contentious 2020 election campaign which pitted him against then-President Donald Trump, who is 76.
However, polling has indicated a sizable percentage of Americans have little appetite for a second Biden term – with many respondents citing his age as a major contributing factor. But, despite this, Biden refused to dance around the issue: "They say I'm ancient; they say I'm wise; they say I'm over the hill; Don Lemon would say 'That's a man in his prime!'"
Former CNN anchor Lemon was fired earlier this month following several controversial on-air moments, including suggesting that another candidate for the Republican presidential nomination, 51-year-old Nikki Haley, "isn't in her prime."
Biden also used the correspondents' association dinner, traditionally presented as a tongue-in-cheek event designed to poke fun at the Washington establishment, to deliver a series of scathing remarks to a host of his more vocal opponents.
"I want everybody to have fun tonight," Biden said. "But please be safe. If you find yourself disoriented or confused, it's either you're drunk or Marjorie Taylor Greene," he said, referring to the far-right Republican congresswoman from Georgia.
Donald Trump, Biden's chief political critic, didn't escape his successor's crosshairs as the incumbent joked that he'd been offered ten dollars to keep his speech brief: "That's a switch – a president being offered hush money," he quipped.
The black-tie dinner returned to the Washington calendar last year after it was postponed in both 2020 and 2021 due to the Covid-19 pandemic. In 2022, Biden was the first US President to speak at the event in six years, after then-President Donald Trump repeatedly refused invitations to attend.
You can share this story on social media: