Pope gives women voting rights at bishops' meeting
The historic step comes after women's rights activists protested the last Synod of Bishops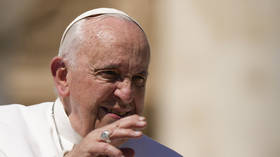 Pope Francis has allowed women to vote at this year's Synod of Bishops, a decision that will see women shape Church policy for the first time in history. Catholic leaders stressed, however, that the bishops will still call the shots.
The decision was announced by the Vatican on Wednesday. In a statement, the Church said that 70 "non-bishops" will vote at the meeting in October, 50% of whom will be women. This group will include "priests, deacons, consecrated men and women, [and] laity," the statement read.
Five men and five women representing the Church's Institutes of Consecrated Life will also vote, while the remainder of the 370 voting members will be bishops, giving this group a sizable majority when it comes to voting on policy changes.
"This is an important change, but not a revolution," Cardinal Jean-Claude Hollerich said at a press conference in the Holy See on Wednesday.
First convened after the Second Vatican Council extensively modernized the Church in the 1960s, synods are periodic meetings of bishops that end with members recommending doctrinal changes to the pope, who alone can decide whether to implement these changes. After the last synod in 2018, Pope Francis issued an exhortation condemning sexual abuse by clergy and calling on Church leaders to repair their reputation with young people.
The 2018 synod was protested by Catholic women's groups, who picketed the gathering and circulated a petition demanding that women be allowed to "vote as equals alongside their Brothers in Christ." One of these groups, the Women's Ordination Conference, hailed the Pontiff's most recent decision as "a significant crack in the stained glass ceiling," and vowed to continue advocating for women priests.
Pope Francis amended Church laws in 2021 to officially allow women to read the Bible at mass and serve communion. While Francis is known as a reformer, he has remained rigid on core Catholic dogma, opposing marriage rights for priests, refusing to condone gay marriage or abortion, and condemning transgenderism as a "dangerous ideology."
You can share this story on social media: