China is no peacemaker – Czech president
Beijing is stalling to weaken the West and strengthen its own position, Petr Pavel told Politico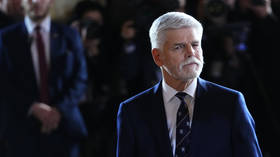 China has no "real interest" in resolving the conflict in Ukraine, Czech President Petr Pavel has claimed, arguing that Beijing benefits from continued fighting. Pavel, a former NATO commander, has previously clashed with China over Taiwan.
"I believe that it is in China's interest to prolong the status quo," Pavel told Politico in an interview published on Tuesday. China benefits from this situation, he continued, by purchasing cheap oil and gas from Russia while watching the West "becoming a little weaker by supporting Ukraine."
Beijing is also "taking lessons out of the conflict every day," Pavel said. "They closely follow what Russia is doing [and] how the West is reacting."
Pavel is not the first Western leader to make such accusations. Published in February, China's 12-point 'Position on the Political Settlement of the Ukraine Crisis' received a lukewarm reception in Kiev and was outright rejected by US Secretary of State Antony Blinken as a "cynical trap" aimed at freezing the current battle lines in Russia's favor.
Months before the document was released, CIA Director William Burns asserted that Chinese President Xi Jinping was looking "carefully at what lessons [he] should draw" from the conflict in Ukraine and apply to a potential invasion of Taiwan.
That Pavel would reject both the document and China's potential role as peacemaker is unsurprising, given his rocky relationship with his Chinese counterparts.
Within days of his election in January, Pavel phoned Taiwan's pro-independence President Tsai Ing-wen, becoming the first European head of state to do so. Beijing, which views Taiwan as its territory and opposes any recognition of the Taipei authorities, condemned the phone call as "a serious interference in China's internal affairs."
Days later, he declared that China is "not a friendly country" and is "not compatible with Western democracies," before calling last month on EU leaders to set aside their differences and focus entirely on opposing both Moscow and Beijing.
The Czech Republic has emerged as one of Ukraine's most active supporters in the conflict with Russia, and Pavel has urged the West to provide "unlimited aid" to Kiev. Pavel has not declared any support for peace talks, has backed Ukraine's accession into NATO, and has called for a change of the "Russian regime from within."
You can share this story on social media: