US-backed Venezuelan opposition figure expelled by neighbor
Politician Juan Guaido entered Colombia in an "irregular manner," the authorities said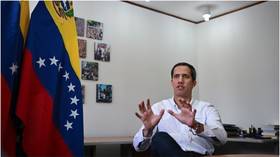 Colombia has expelled US-backed Venezuelan opposition figure Juan Guaido, who had attempted to attend an international conference in Bogota. The staunch critic of Venezuelan President Nicolas Maduro had earlier crossed into Colombia from his home country in defiance of a court-imposed travel ban.
The Colombian Foreign Ministry said on Tuesday that Guaido had arrived in an "irregular manner," adding that immigration officials had taken the politician to El Dorado International Airport in Bogota so he could board a US-bound plane.
Guaido confirmed that he had been forced to leave for the US and condemned the way that Colombian authorities had treated him. "Because of the direct threats to my family and my daughters from the Maduro regime, which have spread to Colombia, I am taking this flight," he wrote on Twitter, promising to "continue to fight."
The former legislator had hoped to attend an international conference hosted by Colombian President Gustavo Petro on Tuesday. The summit is part of ongoing negotiations between the Maduro government and the opposition, which are being mediated by Norway. Colombian Foreign Minister Alvaro Leyva confirmed to reporters on Tuesday that Guaido had not been invited to the summit.
Colombia had openly backed Guaido under its conservative President Ivan Duque. However, Petro, a left-winger who was elected to succeed Duque last year, distanced himself from Guaido in favor of seeking negotiations with Venezuelan political leaders.
Guaido was declared "interim president" in early 2019 by Venezuela's parliament, the National Assembly, which was controlled by the opposition at the time. The move came after the opposition and the US accused Maduro of rigging the 2018 election in order to secure a second term in office. The US had quickly recognized Guaido as the legitimate leader of Venezuela, and the EU and several South American states followed suit. Meanwhile, countries such as Russia, China, and Iran continued to consider Maduro as the rightful president.
Maduro slammed Guaido's actions as illegal and accused Washington of attempting to orchestrate a coup against him.
In December 2022, a coalition of Venezuela's opposition parties voted to dissolve the Guaido-led "interim government" and form a committee to oversee the 2024 presidential election. Guaido criticized the decision as "a jump into the abyss."
White House National Security Council spokesman John Kirby insisted in January that, despite Guaido's dismissal, the US was continuing to "coordinate with him and other like-minded members" of the opposition in Venezuela.
You can share this story on social media: