Musk claims he donated $100 million to Ukraine
The SpaceX chief oversaw the introduction of the Starlink telecommunications system in Ukraine last year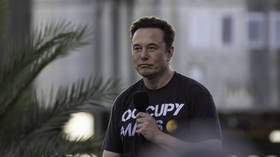 Elon Musk has claimed he has donated $100 million to support Ukraine in its conflict with Russia. The South African billionaire made the claim during an argument on social media with US author Stephen King on Sunday.
Last year, the SpaceX, Tesla and Twitter CEO oversaw the introduction of the Starlink telecommunications system in Ukraine, which is regarded as crucial by Kiev's armed forces.
"I've donated $100m to Ukraine, how much have you donated?" Musk asked King in a tweet on Sunday after the author suggested that the billionaire should donate a portion of the proceeds from the social media platform's new paid-verification model to Kiev.
Musk also retweeted an October message from Ukrainian Technologies Minister Mikhail Federov, in which he thanked the SpaceX CEO for the provision of the company's Starlink satellite network to Ukraine, which he described as "critically important."
The Twitter owner also noted that SpaceX had turned down funding from the US Department of Defense to help pay for the system's operational costs – which he estimated last year would reach $100 million by the end of 2022.
Soon after the beginning of the conflict last year, Musk made Starlink – a low Earth orbit constellation of satellites that provides internet access – available in Ukraine following a request from Federov. The communications network was deployed by Kiev to monitor troop movements and other military information-gathering methods, particularly as Ukraine's pre-existing internet infrastructure was regularly inoperable.
However, in February, Kiev responded angrily after Musk and SpaceX imposed limits on the use of Starlink in Ukraine amid reports that the technology was being harnessed for the use of drones. Mikhail Podolyak, a senior adviser to Vladimir Zelensky, argued at the time that SpaceX must decide if it is "on the side of the right to freedom."
Gwynne Shotwell, SpaceX's chief operating officer, said during a news conference in the United States last February that the system was not intended for use in Ukraine for "offensive purposes," and that it was "never, never meant to be weaponized."
You can share this story on social media: