Baltic states demand explanation from China
A scandal has erupted after Beijing's ambassador in Paris called into question the sovereignty of former Soviet republics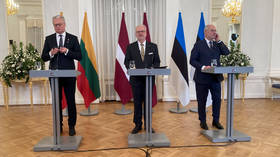 Latvia, Estonia and Lithuania have lodged a joint protest at a recent remark by the Chinese ambassador to France, and demanded an explanation from Beijing. Speaking to the media, Lu Shaye called into question the legal basis for the sovereignty of former Soviet republics.
Taking to Twitter on Saturday, Latvian Foreign Minister Edgars Rinkevics described Lu's comment as "unacceptable," and revealed that Riga, in coordination with Tallinn and Vilnius, had summoned the Chinese charges d'affaires in the three Baltic countries to "provide explanations on Monday."
In a separate post, Rinkevics wrote that the countries expect a "complete retraction of this statement" by Beijing.
Estonia's top diplomat, Margus Tsahkna, denounced Lu's assessment as "false" and a "misinterpretation of history." He insisted that the "Baltic states under international law have been sovereign since 1918 but were occupied for 50 years."
Lithuanian Foreign Minister Gabrielius Landsbergis, in turn, noted that the Chinese diplomat's remark serves as proof that Beijing cannot be trusted as a peace broker in the Ukraine conflict.
In an interview with France's LCI broadcaster on Friday, Ambassador Lu discussed the Ukraine conflict and claimed that "countries of the former Soviet Union don't have effective status in international law because there is no international agreement to make their status as a sovereign country concrete."
In a statement on Sunday, the French Foreign Ministry emphasized its solidarity with the Eastern European NATO allies, adding that the Baltic states acquired their independence "after decades of oppression."
Paris also made it clear that it expects Beijing to clarify its position on the issue.
The three Baltic states were part of the Russian Empire from the 18th century until the 1917 revolution. Latvia, Estonia and Lithuania declared their independence a year later. In 1940, the Soviet Union deployed its military to the three countries, which saw local communists come to power. The new authorities soon issued formal requests to join the USSR.
From 1941 until 1945, the Baltic states were occupied by Nazi Germany.
Since the dissolution of the Soviet Union in 1991, Riga, Tallinn and Vilnius have insisted that the decades of the Soviet rule were nothing but an illegal occupation – a description Moscow rejects.
The Russian Foreign Ministry contends that the three states were absorbed by the USSR in accordance with international laws and norms that were in force in the mid-20th century.
You can share this story on social media: