Vatican refuses to commit 'grave sin' – media
Church officials have reportedly refused a London court's request for private messages linked to a real estate row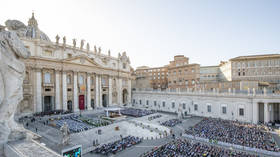 A representative of the Vatican has said in a court filing that it would be a "grave sin" for the church to be forced to disclose communications between an archbishop and a cardinal in a UK trial related to a disputed real estate deal, according to a report by Bloomberg.
"The violation of the pontifical secret is deemed a grave sin," Carlos Ferando Diaz Paniagua, a Roman Catholic priest and lawyer, declared in documents filed with a London court in March.
The pontifical secret, also referred to as papal secrecy, refers to an oath taken by members of the church designed to protect the distribution of sensitive information. It stands, Diaz Paniagua added to the court, "regardless of any grave or urgent considerations or the need to protect the common good."
The legal request for various emails and text messages stems from a 2018 claim by the Vatican that it was defrauded by financier Raffaele Mincione and his companies in the $383 million sale of a former Harrods warehouse in London's high-end Chelsea district. Ten people – including an Italian cardinal – have been accused by Vatican prosecutors in relation to various fraud and embezzlement charges amid allegations that the property had been sold at an inflated price.
The Vatican has claimed it could lose as much as $186 million in its purchase of the site, which was intended to be developed into luxury apartments, and that it was improperly advised throughout the proceedings.
Mincione, who is a defendant in the Vatican case, has in turn sued the church in the aforementioned London civil trial. He claims that his reputation has been damaged by the Vatican's accusations against him. In 2020, he petitioned the London court for a declaration that he had acted in good faith throughout his role in the real estate deal – a ruling his legal team believes would assist him in the separate trial brought by the Vatican.
As part of the civil case, Mincione's lawyers sought a trove of digital communications between high-ranking church officials Cardinal Pietro Parolin and Archbishop Edgar Pena Parra. Diaz Paniagua claimed in response that emails and text messages between the pair are irrelevant to the case, while the Vatican has said messages protected by pontifical secret are akin to state secrets
Lawyers representing Mincione have declined to comment. The Vatican has until April 28 to decide if it intends to maintain pontifical secret as its reason for refusal to comply with a court request.
You can share this story on social media: