Taiwan predicts timeline for conflict with China
The self-governing island's top diplomat, Joseph Wu, told the media that Beijing may be planning a military offensive in 2027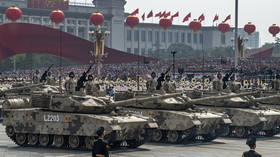 A military conflict between China and Taiwan could take place in 2027, the self-governing island's Foreign Minister Joseph Wu has claimed.
Appearing on the UK's LBC radio station on Thursday, Wu said: "We are taking the Chinese military threat very seriously… I think 2027 is the year that we need to be serious about."
He expressed hope that "like-minded partners, the UK included, can stop China from initiating any war against Taiwan."
Reuters revealed last month that the British government had approved a considerable increase in exports of submarine parts and technology to Taiwan in 2022. It followed a call by former prime minister Liz Truss for a "global NATO" to arm Taipei in the same way the alliance was arming Kiev.
Wu's assessment of China-Taiwan relations echoes that outlined by CIA Director William Burns in February.
Appearing on CBS' Face the Nation, he claimed that "President Xi has instructed the PLA, the Chinese military leadership, to be ready by 2027 to invade Taiwan." He added, however, that this alone does not mean Beijing had "decided to invade in 2027 or any other year."
A month prior to Burns' comments, NBC cited an internal memo by General Mike Minihan, the head of the US Air Mobility Command (AMC), in which he told his staff that fighting over the island could break out within two years. However, while an AMC spokesperson confirmed the authenticity of the memo, an anonymous Pentagon official told the outlet that "these comments are not representative of the department's view on China."
On Friday, Chinese Foreign Minister Qin Gang warned that "those who play with fire on the question of Taiwan will burn themselves." He insisted that Beijing "will never back down in the face of any act that undermines China's sovereignty and security."
Earlier this month, the country's state-run CCTV channel quoted President Xi as calling on the military to step up "training oriented toward actual combat."
Taiwan has been de facto independent since 1949, when the losing side in the Chinese civil war fled to the island and established its own administration. While only a handful of nations have recognized Taiwan as a sovereign state, the US has long maintained close, unofficial ties with Taipei, both militarily and economically. Formally, Washington still professes to adhere to the 'One-China' principle.
Beijing considers the island to be an inalienable part of its territory that has been seized by separatists. While the Chinese leadership says it prioritizes a peaceful 'reunification', it has not ruled out military options.
You can share this story on social media: