Poland wants broader Ukrainian food ban – media
The EU has pledged €100 million in aid to Eastern European farmers hurt by prices being undercut by imports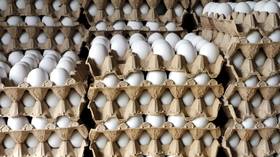 Poland wants to expand import restrictions on Ukrainian foodstuffs by adding berries, eggs, poultry, sugar, and honey, a Polish outlet has claimed. Several Eastern European nations targeted Ukrainian grain after it flooded the market and drove local prices down.
Warsaw's push for wider restrictions was reported on Thursday by the RFM radio station, which cited unofficial information uncovered by its reporter in Brussels. Hungary has already banned Ukrainian eggs, meat, sugar, cooking oil, wine, and most kinds of vegetables.
Poland, Hungary, Romania, Slovakia, and Bulgaria banded together to keep Ukrainian food products out of their markets, sparking irritation in Brussels. A European Commission spokesperson said last Sunday that "unilateral actions" were not acceptable and that member states should "align all decisions within the EU."
Last year, the EU lifted tariffs and quotas for Ukrainian agricultural products and worked to facilitate these goods being exported, purportedly to help Kiev in its fight against Russia. Eastern European nations, in particular Poland, have been supporting Kiev's war effort but have faced domestic protests as farmers have struggled to compete with cheaper imports.
On Wednesday, EU officials met with representatives from the five countries to discuss their concerns. The European Commission offered €100 million ($109 million) in support for farmers in the five member states, nearly twice the amount previously allocated for the purpose. It also vowed to take "preventive measures" regarding wheat, maize, oilseeds and sunflower seeds.
The crisis has subjected Ukraine's bid to join the EU to a "reality check," the Financial Times noted in a newsletter on Thursday. Ukraine is a major agricultural power, and membership would give it better access to the joint EU market. The FT said the standoff exposed "the gulf between political positioning and market realities" and that accession "remains a distant prospect at best" for Kiev.
You can share this story on social media: