South Korea downplays claims it could arm Ukraine – media
Yonhap news agency has cited an official as saying Seoul would refrain from such a step to maintain "stable" relations with Russia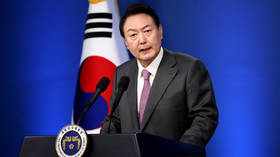 South Korea supports Ukraine's cause, but is not arming Kiev since it does not want to alienate Russia, Yonhap news agency has reported. The outlet quoted an unnamed official who clarified that a recent remark by President Yoon Suk-yeol about providing Ukraine with lethal aid was made "in hypothetical terms."
According to the Yonhap report published on Thursday, the anonymous staffer told journalists that the extent and nature of South Korea's assistance to Ukraine has not changed, meaning that Seoul is not providing it with weapons. They added, however, that South Korea is not bound by any laws that would prohibit it from doing so.
"The reason we are not taking such action voluntarily is because we want to simultaneously and in a balanced manner fulfill the task of stably maintaining and managing South Korea-Russia relations while actively joining the ranks of the international community in defending the freedom of the Ukrainian people," the official told Yonhap.
Commenting on Yoon's interview with Reuters, the administration staffer insisted that no decision on weapons deliveries to Ukraine had been made so far. He noted that this could change down the road, depending "on Russia's actions."
The comments came after former Russian President Dmitry Medvedev posted a message on his Telegram channel on Wednesday, warning that Russia could respond by sending state-of-the-art weapons to North Korea.
"I wonder what the residents of this nation will say when they see the newest example of Russian weapons in possession of their closest neighbors, our partners from the DPRK [Democratic People's Republic of Korea]?" wrote Medvedev, who currently serves as deputy chair of the Security Council.
Kremlin spokesperson Dmitry Peskov, for his part, lamented South Korea's "quite unfriendly positions" vis-a-vis Russia which have already manifested themselves in sanctions against Moscow.
While there is nothing fundamentally new in Seoul's stance, "the start of weapons deliveries would indirectly mean a certain stage of involvement in this conflict," Peskov stressed.
Speaking to Reuters earlier on Wednesday, the South Korean president had said that "if there is a situation the international community cannot condone, such as any large-scale attack on civilians, massacre or serious violation of the laws of war, it might be difficult for us to insist only on humanitarian or financial support" for Ukraine.
South Korean media claimed last week that the country was considering "loaning" the US some 500,000 rounds for 155mm artillery pieces. Kiev is reportedly in dire need of this caliber of ammunition.
You can share this story on social media: