US weapons manufacturer sponsors 'drone opera'
Funded by General Dynamics, the production tells the story of a female drone operator raising a daughter by night and bombing Afghanistan by day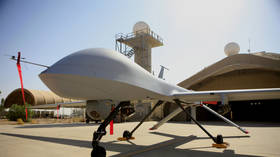 Residents of Washington DC looking for highbrow entertainment will soon be able to watch an opera about the home life of a "hot shot" drone operator sponsored by one of the US' largest weapons companies.
'Grounded' premieres at the John F. Kennedy Center for the Performing Arts this October, according to a recent announcement on the theater's website. With music composed by Jeanine Tesori and based on a 2013 play by George Brant, the opera tells the story of "Jess," a "hot shot F-16 pilot" who finds herself unable to fly due to an unexpected pregnancy.
Jess is reassigned to pilot drones in Afghanistan from the comfort of a trailer in Las Vegas, and "tracks terrorists by day and rocks her daughter to sleep by night." The story examines "what's lost when technology distances us from the horror of war? And what price is inflicted upon the operator of a lone drone in a blue sky?" according to the theater's website.
The opera is sponsored by General Dynamics, which is the fifth-largest weapons manufacturer in the world. General Dynamics builds the F-16 fighter jets piloted by the opera's fictional heroine as well as a number of vehicle-launched attack drones. Its former subsidiary, General Atomics, manufactures the MQ-9 Reaper drones that saw extensive use in Afghanistan, including in the 2021 strike that killed a family of unarmed civilians in Kabul.
Whether the opera will end on an anti-war note is unclear, although the DC-based Quincy Institute for Responsible Statecraft noted last week that "productions involving arms companies or the Pentagon rarely find much room to critique America's wars abroad."
The US military-industrial complex often gets involved in events that promote its products. Back in December, Northrop Grumman, Raytheon, Pratt & Whitney, and Lockheed Martin all sponsored a party at the Ukrainian embassy honoring the country's military. Logos for all four arms makers were emblazoned on invitations to the event.
"Ukrainian diplomats should probably think harder about how it looks for them to be throwing parties with the defense contractors who are making bank off of this horrible war," Carnegie Endowment for International Peace fellow Matt Duss told Vox at the time.
You can share this story on social media: