G7 'maliciously smeared and discredited China' – Beijing
In a statement, the group accused the country of human rights abuses and affirmed its support for Taiwan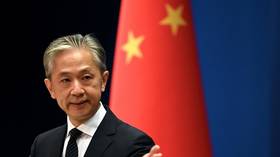 A joint communique of the G7 foreign ministers was "full of arrogance" and "grossly interfered in China's internal affairs," Chinese Foreign Ministry spokesman Wang Wenbin told reporters on Tuesday. The communique contained a statement of support for Taiwan and accused Beijing of "coercion."
"The G7 foreign ministers' meeting has grossly interfered in China's internal affairs, and maliciously smeared and discredited China," Wang said. "The communique is full of arrogance [and] prejudice."
"We deplore and reject this," he continued, adding that Beijing has issued "a strong demarche" to Japan, which hosted the ministers' meeting over the weekend.
Meetings of G7 leaders or ministers usually end with the release of a joint communique setting out the bloc's position on international issues. Tuesday's joint statement focused heavily on China, declaring that "there is no legal basis for China's expansive maritime claims in the South China Sea" and urging Beijing to "abstain from threats, coercion, intimidation, or the use of force" in the region.
The statement also backed Taiwan's participation in international organizations, condemned Beijing's alleged "human rights violations" in Xinjiang and Tibet, and accused China of eroding "Hong Kong's autonomy rights and freedoms."
Taiwan is "part of China's sacred territory," Wang responded, stating that "to truly keep the Taiwan Strait peaceful, it is essential to unequivocally oppose and stop" any steps by Taipei toward independence. Hong Kong, Xinjiang, and Tibet are "China's internal affairs that no foreign forces should intervene in under any pretext or in any way," he declared.
"We urge the G7 to concentrate on their own problems and discard the Cold War mentality," Wang concluded.
Tensions have remained high in the Taiwan Strait since last summer, when then-US House Speaker Nancy Pelosi visited the island and President Joe Biden made a number of statements suggesting he would use the US military to repel a hypothetical Chinese invasion of Taiwan. With Washington pushing a hard line on Taiwan – reportedly approving the sale of hundreds of anti-ship missiles to Taipei this week – other G7 members have been more cautious.
France's Emmanuel Macron recently declared the US-China showdown over Taiwan a crisis "that is not ours," and called on European leaders to avoid getting dragged into a confrontation over the island. Nevertheless, French Foreign Minister Catherine Colonna still put her name to Tuesday's communique, suggesting that, for now, the bloc remains united in confronting Beijing.
You can share this story on social media: