Pentagon doesn't know how many documents were leaked – spokeswoman
As new revelations hit the media every day, the Department of Defense told the public to brace for more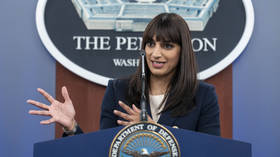 The US Department of Defense is still trying to "understand the scope and scale" of a document leak that saw a trove of classified information posted online, a spokeswoman told reporters on Monday.
"We're going to continue to find documents online," Pentagon Deputy Press Secretary Sabrina Singh said at a briefing. Singh added that the Pentagon does not "have a specific number" of leaked documents identified, and that the "scope and scale" of the leak "is something we're still assessing."
The documents in question appeared on a Discord server at some point in the last month, before spreading to the wider internet and catching the attention of the mainstream media. The alleged leaker, a 21-year-old airman in the Massachusetts Air National Guard named Jack Teixeira, was arrested by the FBI on Thursday after the New York Times published his identity.
Files allegedly leaked by the suspect revealed that US and NATO special forces were active in Ukraine, that Ukrainian casualties were higher than publicly acknowledged by US officials, that Kiev's forces were low on ammunition, and that the US has spied on its allies throughout the conflict. US officials have dismissed many of the leaked files as fake or doctored.
The same media outlets – the New York Times and the Washington Post – that printed the leaker's identity have continued to publish information from the documents following his arrest. Files from the leak cited by Newsweek on Sunday revealed the purported start date of Ukraine's forthcoming spring offensive against Russian forces.
Defense Secretary Lloyd Austin has responded to the leak by announcing an internal security review in order to "prevent this kind of incident from happening again," the closest a top defense official has come to confirming the documents' authenticity. Previously, the Pentagon would only say that some of the files "appear … similar in format" to its intelligence briefings.
Kremlin spokesman Dmitry Peskov told journalists on Friday that Moscow had looked into the leaked documents. Earlier, Russian Deputy Foreign Minister Sergey Ryabkov suggested that some of the files could have been leaked as part of a Western "deception" campaign aimed at downplaying Ukraine's military capabilities ahead of Kiev's rumored offensive.
You can share this story on social media: