Former Mexican president worked for CIA
The revelation comes as the US releases more documents relating to the probe into the John F. Kennedy assassination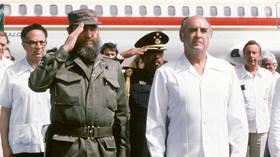 Former Mexican president Jose Lopez Portillo, who led the country from 1976 to 1982, was a Central Intelligence Agency (CIA) asset, according to a new batch of declassified documents published by the US National Archives.
Among the papers, relating to a CIA probe into the murder of President John F. Kennedy in 1963, was a memo from a meeting of CIA agents on November 29, 1976.
In the discussions, US intelligence official Bill Sturbitts informed his colleagues that "Mexico will soon have a new president, a man who has had control of Liaison for a number of years."
Lopez Portillo was not mentioned by name in the memo, but the meeting took place just a few days before he officially assumed the presidency.
He had run for office earlier that year as the sole candidate from the Institutional Revolutionary Party, which ruled the country from 1929 to 2000. Lopez Portillo died in 2004 at the age of 83.
The meeting described in the memo was dedicated to the expected release in mid-December 1976 of papers from the CIA's investigation into Lee Harvey Oswald – the man convicted for JFK's murder. Oswald had visited Mexico shortly before the fatal shots were fired in Dallas, and US intelligence subsequently carried out a large-scale surveillance and phone-tapping operation in the country.
Authorities concluded that the Marine veteran shot the president from a sixth-floor window in a nearby building as the presidential motorcade was passing by. Oswald denied the accusations, telling the media that he was a "patsy." He was shot dead two days after JFK's assassination while in police custody. Oswald's killer, Jack Ruby, was sentenced to death, but died of lung cancer while in prison.
Sturbitts said during the 1976 meeting that Mexico's new leader "can be expected not to look favorably upon publicity of that relationship" with the CIA, according to the declassified paper.
Lopez Portillo is the fourth former Mexican president listed as a US intelligence asset. The others are Luis Echeverria, who was in office between 1970 and 1976, Gustavo Diaz Ordaz (1964-1970) and Adolfo Lopez Mateos (1958-1964).
You can share this story on social media: