Poland suspends Ukrainian grain imports
The measure comes as multiple Eastern European nations sound the alarm over an inflow of cheap agricultural produce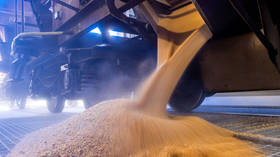 Poland has imposed a "temporary ban" on agricultural and food products from neighboring Ukraine, citing the need to protect local markets from "destabilization" caused by an ongoing inflow of cheap produce.
The country's agriculture and development ministers have been tasked with issuing "relevant legal acts to protect the Polish agricultural market against destabilization – including a temporary ban on imports of agricultural and food products from Ukraine," the government announced in a statement on Saturday.
Commenting on the decision, the leader of the ruling Law and Justice Party (PiS), Jaroslaw Kaczynski, insisted it will not harm ties between Warsaw and Kiev, with the latter already taking unspecified steps to address Poland's concerns.
"We are and remain unchanged friends and allies of Ukraine... But it is the duty of every state, every authority, good authority in any case, to protect the interests of its citizens," Kaczynski argued.
Poland is one of Kiev's leading supporters in the conflict with Russia. However, along with several other Eastern European nations, it has been flooded with Ukrainian grain and other agricultural products in the past few months. The inflow has created logistical bottlenecks and has sent prices plummeting, hurting local producers.
The issue stemmed from the EU's efforts to support Ukraine, with Brussels permitting duty-free imports from the country. While the move was touted as a way to help Ukraine reach its customers in the Middle East and Africa, much of the produce has ended up in Eastern Europe.
Last month, the prime ministers of Bulgaria, Hungary, Poland, Romania, and Slovakia demanded action from the EU Commission on Ukrainian agricultural imports, calling for the reintroduction of tariffs. In early April, the countries also urged Brussels to buy back accumulated Ukrainian products on "humanitarian" grounds.
On Friday, Slovakia also banned the processing and sale of Ukrainian grain, citing the discovery of a dangerous pesticide prohibited in the EU in a 1,500-ton haul of the product. The restrictions will cover all grain of Ukrainian origin as well as any flour made from it which is currently stored in Slovakia.
You can share this story on social media: