Elon Musk launches AI start-up
The billionaire entrepreneur previously warned of the "profound risks" AI could pose to humanity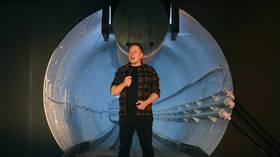 Tesla and SpaceX head Elon Musk has started a new artificial intelligence company called X.AI Corp, according to state business records. The move comes after Musk changed Twitter's official name to X Corp. and hinted at plans to create an "everything app" simply dubbed "X."
The AI start-up was incorporated in Nevada on March 9, state filings show, with Musk listed as the company's director. Former Morgan Stanley executive Jared Birchall, who also serves as CEO for Musk's Neuralink venture, was named as secretary.
According to sources cited by the Wall Street Journal and Financial Times on Friday, X.AI Corp. will aim to compete with OpenAI, the maker of the increasingly popular AI-based chat program ChatGPT. While Musk helped to found OpenAI in 2015, he left its board of directors three years later and has since grown critical of the firm, saying it had become a "closed source maximum-profit company effectively controlled by Microsoft."
While Musk has yet to reveal his plans for the AI business, he has reportedly assembled a team of researchers and software engineers for the venture and "secured thousands of high-powered GPU processors," according to FT. The outlet noted that Musk has also held discussions with investors in two of his other companies, SpaceX and Tesla, about putting money into the project.
The name of the new company is in line with an 'X' theme seen across several of Musk's businesses, with the billionaire rechristening Twitter Inc. as "X Corp." earlier this week. He has previously dropped cryptic hints about plans for an "everything app" called "X," though it is unclear whether the AI project is related.
Musk's apparent re-entry into the world of artificial intelligence comes just weeks after he signed an open letter alongside more than 1,000 researchers and tech executives warning that AI could pose "profound risks to society and humanity." The letter called for a global "pause" on AI development for "at least six months" in order to "give society a chance to adapt" to the rapidly-advancing technology.
During a Tesla event last month, Musk said "AI stresses me out," calling it "quite dangerous technology" while admitting "I may have done some things to accelerate it." Given those concerns, it's unclear what he will seek to do with X.AI Corp., the latest in a long line of tech firms founded or headed by Musk.
You can share this story on social media: