Controversial French pension reform approved despite national unrest
The Constitutional Council has ruled in favor of the unpopular measure, which has inspired weeks of protests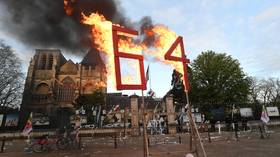 France's Constitutional Council approved President Emmanuel Macron's plan to raise the retirement age by two years on Friday, inching the unpopular measure one step closer to becoming law. Protesters who have filled the streets of France for over a month in opposition to the plan have vowed they will not go home until it is withdrawn.
Many dumped piles of garbage in front of the Council building and hung a banner reading "constitutional censorship" across the street as they waited for the decision on Thursday. The Council's duty is to evaluate the constitutionality of proposed legislation, and its word is final.
Macron is all but guaranteed to sign the pension reform bill, having described it as a "necessity" to rescue the country's floundering retirement system. It will take effect at the start of September, gradually raising the retirement age –now 62– by three months at a time until it reaches 64 by September 2030.
The sole remaining legal route for opponents of the reform is to gain the approval of the Council and 10% of voters within the next nine months to hold a referendum, a mechanism that has never been set in motion since it became an option in 2015.
Content to work outside the system for now, labor union CGT has vowed not to negotiate with the president at all until the pension reform is withdrawn.
Union members joined the 400,000-plus protesters who filled the streets nationwide on Thursday. Mobs swarmed the headquarters of luxury brand LVMH and a week earlier invaded the offices of asset manager BlackRock. They also set fire to one of Macron's favorite restaurants, pelted City Hall with dead rats and blocked traffic to Charles de Gaulle International Airport.
Strikes have also disrupted metro, train and air travel, while countless violent clashes between heavily armored riot police wielding tear gas and hordes of angry demonstrators unfolded in the streets.
France's retirement age is among the lowest in Europe and its life expectancy among the highest. However, Macron's decision to ram through the pension reform without allowing a vote by the lower House of Parliament did not sit well with opposition legislators, who twice tabled no-confidence motions against the centrist's neoliberal government, ultimately losing both.
More than two thirds of French people oppose the reform, and the Council's decision was condemned by both Jean-Luc Melenchon of the leftist France Unbowed party and Marine Le Pen of the right-wing National Rally.
You can share this story on social media: