China scolds Poland
Beijing's embassy in Warsaw has blasted PM Mateusz Morawiecki for linking the Russia-Ukraine crisis to events in Taiwan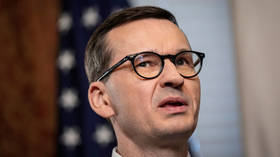 The Chinese Foreign Ministry has rebuked the Prime Minister of Poland Mateusz Morawiecki for a speech in which he suggested the Ukraine crisis is linked to rising tensions over Taiwan, saying the PM is interfering in China's affairs and disrespecting its territorial integrity.
"Any attempt to use the Ukraine issue as a pretext to insinuate a relationship with the Taiwan issue is political manipulation with ulterior motives, mindless trampling on the principle of respect for national sovereignty and territorial integrity, and flagrant interference in China's internal affairs," the Chinese embassy in Warsaw said on Friday in a statement.
At issue was Morawiecki's speech on Thursday in Washington. Speaking to the Atlantic Council, a pro-NATO think tank, the premier argued that if Ukraine is defeated in its conflict with Russia, China may decide to invade Taiwan shortly thereafter. He also drew criticism from former Russian President Dmitry Medvedev for saying in an NBC News interview that NATO would quickly defeat Moscow's forces if the conflict escalates into a direct confrontation between the Western military bloc and Russia.
China claims sovereignty over Taiwan, which it considers a breakaway province, and has vowed to reunify with the self-governing island – by force if necessary. Tensions in the region have risen in the past year amid controversial visits to Taipei by politicians from the US and other NATO-aligned nations. China has cut off defense ties with Washington and ramped up military drills around Taiwan.
Polish security-services spokesman Stanislaw Zaryn bristled at the Chinese embassy's statement, accusing Beijing of "attacking" Poland's leader and trying to force Warsaw to "adopt Chinese optics" regarding Taiwan. "Chinese propaganda has, from the very beginning of Russia's war against Ukraine, used the hostilities for its own purposes – mainly to blame the West and the US for the war," Zaryn said. He added that the Chinese statement indicates that "the Sino-Russian tactical alliance is covering more and more areas of joint action."
You can share this story on social media: