World faces 'most dangerous period of time in history' – Trump
The former US president has warned that incompetent leaders and advanced weaponry have imperiled humanity more than ever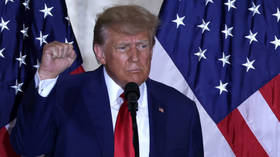 The world has been pushed to the brink of total destruction by inept leaders and nuclear weapons that are 500 times as powerful as the atomic bombs that American forces dropped on Japan during World War II, former US president Donald Trump has claimed.
"Look, we could end up in World War III over this whole thing," Trump said in a Fox News interview that was aired on Wednesday night. He added, "I believe it is the most dangerous period of time in history – number one, because we have people on top that are incompetent. That's number one."
Trump was referring to the Russia-Ukraine crisis. Moscow officials have warned that increasing US and NATO involvement in Ukraine, including massive military aid to Kiev, could escalate the crisis into a wider conflict, possibly involving nuclear weapons.
Asked by host Tucker Carlson who was behind last year's bombing of Russia's Nord Stream pipelines in the Baltic Sea, Trump said it wasn't Moscow. He implied that Washington was involved in the sabotage, saying, "I don't want to get our country in trouble, so I won't answer it."
The former president acknowledged that it was "very dangerous" to blow up the pipelines, adding, "I think most people know who did it." Asked whether the US put itself at risk of retaliatory strikes on its critical infrastructure, he said, "I think it's much more than infrastructure we're talking about."
Trump also warned that nuclear weapons are the biggest threat facing the world today, and the US and Russian arsenals could cause unprecedented destruction. "All it takes is one madman, and you're gonna have a problem the likes of which the world has never seen."
Trump, who is currently polling as the leading Republican Party candidate in the 2024 presidential race, blamed current US leadership for heightening the risk of nuclear war with Russia and China. "The most dangerous period of time – because of weaponry, because of nuclear, because of weaponry – the most dangerous period of time in the history of our country and in the history of the world, right now, and we have an incompetent person at the top."
You can share this story on social media: