Germany greenlights Soviet-made fighter jets for Ukraine
Berlin, however, is still undecided on supplying Kiev with the 21st century aircraft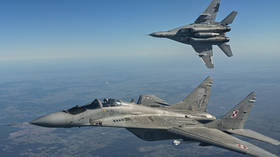 Germany has approved Poland's request to deliver five Soviet-made MiG-29 fighter jets to Ukraine, the German Defense Ministry said on Thursday. The warplanes originate from East Germany's aircraft fleet and, therefore, require re-export approval from Berlin.
The move was praised by the country's defense minister, Boris Pistorius, who declared the approval shows one "can rely" on Berlin.
"I welcome the fact that we in the federal government have reached this decision together," Pistorius stated.
Poland has been an active proponent of supplying combat aircraft to Kiev to prop it up in the ongoing conflict with Moscow. Ukraine has long-demanded more and more sophisticated weaponry from its Western backers, including warplanes. So far, however, only deliveries of older Soviet-made warplanes have been made.
Last week, Polish President Andrzej Duda said Warsaw was ready to send all its MiG-29 fighter jets to Ukraine "in the future." The president made the remarks during a meeting with his Ukrainian counterpart, Vladimir Zelensky, who was making his first official visit to the country since the beginning of the ongoing hostilities.
Warsaw has already pledged two batches of MiG-29 fighter jets to Ukraine. According to Duda, four of them have already made it to Ukraine, with four other machines in the process of being handed over, while another six undergo maintenance before being transferred.
Another Eastern European nation, Slovakia, announced last month that it would be giving all of its surviving MiG-29 aircraft to Kiev, including ten with engines and another three without. At least four of the Slovakian jets have already been transferred to Ukraine and entered combat duty, according to local officials.
Germany itself, however, has not announced any plans to supply Ukraine with fighter jets and has not indicated that it was ready to do so. However, the country had been resisting Ukrainian lobbying to deliver modern tanks before ultimately reversing its policies early this year. Berlin has allowed third-party users of German-made Leopard 2 main battle tanks to send them to Kiev, as well as pledged to send in armored vehicles of this type from the Bundeswehr stocks. Separately, German arms giants pledged dozens of Leopard 2 and older Leopard 1 tanks for Ukraine as well.
Moscow has long warned the collective West against "pumping" Kiev with weaponry, stating that it would only prolong the hostilities rather than change their outcome. Moreover, Russia believes Ukraine's sprawling arms black market poses a threat to the West itself, since sophisticated anti-aircraft and anti-tank Western-supplied systems may end up in the hands of assorted terrorist and criminal groups.
You can share this story on social media: