School shooter gets life in prison
Ilnaz Galyaviev killed nine people, including seven children, during a shooting rampage in Kazan in May 2021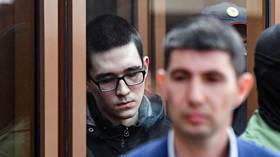 The Supreme Court of Russia's Tatarstan Region has delivered a verdict in the case of a school shooter who killed nine people and injured dozens two years ago. Ilnaz Galyaviev will spend the rest of his life in prison.
On Thursday, the 21-year-old was found guilty of murder and attempted murder of two or more people, as well as possession of explosives and deliberate destruction of property.
The shooter's defense attorney had asked the court to exempt Galyaviev from criminal liability and send him to a psychiatric institution instead. The judge, however, sided with the public prosecutor.
Back in November, the shooter pleaded guilty to the murder charges.
On May 11, 2021, Galyaviev, armed with a shotgun and an improvised explosive device, forced his way into a school, severely wounding a guard at the entrance. The young man then proceeded to fatally shoot a teacher.
He subsequently killed seven eighth-graders, with several children managing to flee by jumping out of windows from the third floor.
His final victim was another teacher who shielded a pupil with her own body.
The shooter surrendered after the arrival of law enforcement personnel at the scene.
A total of 23 people sustained injuries as a result of the attack.
Shortly before the incident, Galyaviev posted a photo of himself wearing a mask that said 'God' on his Telegram channel. He also demanded that "everyone recognize themselves as his slaves" and announced that he was going to kill a "huge amount of bio-garbage."
An initial psychiatric appraisal ruled that Galyaviev was insane. However, a subsequent assessment rebutted that conclusion and stated that he was and still is fully aware of his actions.
You can share this story on social media: