Biden sought to 'threaten' Putin – Seymour Hersh
The US wanted to leverage a potential attack on Nord Stream to deter Moscow from an offensive against Ukraine, the journalist has claimed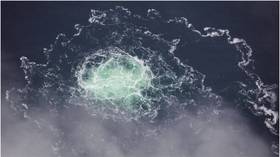 The US intended to use the threat of blowing up the Nord Stream pipelines to dissuade Russia from attacking Ukraine, Pulitzer Prize-winning investigative journalist Seymour Hersh has argued.
In an exposé published online in February, Hersh claimed that the US orchestrated the September 2022 bombing of the Baltic Sea pipelines built to deliver gas from Russia to Germany.
Speaking to German online magazine Tichys Einblick on Monday, the journalist said President Joe Biden originally viewed the threat of sabotage as a deterrent.
Hersh claimed that plans for a potential attack began towards the end of 2021, when the US was accusing Moscow of a military buildup along the border with Ukraine.
"The idea was to find something extraordinary that the president could use, like an enticement or a threat, to convince Putin not to attack [Ukraine]," Hersh said.
"Above all, it was a threat. I don't think this administration is very good at persuasion. They operate more along the lines of, 'You're with us or you're against us,'" the journalist added. "The idea was to tell Putin: 'We will blow up the pipelines if you cross the Ukrainian border.'"
Two weeks before Moscow launched its military operation in February 2022, Biden promised that the US would "bring an end" to Nord Stream if Russian forces entered Ukraine. Washington and its allies have since imposed sweeping sanctions on Moscow and have supplied Kiev with heavy weapons, including tanks and artillery.
However, the White House has denied any involvement in the pipeline sabotage, dismissing Hersh's story as "utterly false and complete fiction."
Several news outlets claimed in March that a pro-Ukrainian group acting independently may have been behind the sabotage. Kiev has denied any involvement in the attack. Russia, meanwhile, insisted that the reports were aimed at deflecting attention from Hersh's investigation.
Last month, the UN Security Council rejected Russia's call to set up an international commission to investigate the sabotage.
Dmitry Polyansky, Russia's deputy envoy to the UN, told the Izvestia newspaper on Tuesday that "Western countries, especially the US, are not interested in an objective international investigation." Instead, they are "interested in covering the tracks and leading investigators down the wrong path," he insisted.
You can share this story on social media: