Italy's birth rate at historic low
The EU nation is facing a "crisis" despite financial incentive schemes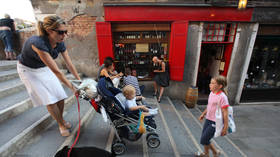 Fewer than 400,000 babies were born in Italy in 2022, deepening what has been referred to as a "national emergency." The country's population has declined to historically low levels, according to figures released by the EU nation's National Institute of Statistics.
The total number of newborns in Italy dropped 1.8% from the 400,249 births recorded in 2021, the lowest such figure since 1861. The new figures, released on Friday by Italy's statistics bureau, mean that Italy had 12 deaths for every seven births last year as the country's overall population dropped by 179,000.
"It's a demographic crisis," said Maria Rita Testa, a demographer at Luiss University in Rome, via the Financial Times. "We are going to lose a lot of people in the future," she said of a situation attributable simply to the fact that "women are just having fewer children."
The population decline follows the introduction of a scheme in 2021 to provide families with monthly financial incentives for each child born, ranging between €50 to €175 ($55 to $192) depending on the family's income.
The leader of Italy's current right-wing government, Giorgia Meloni, made addressing the population decline a key element of her election campaign. The policy pledge came amid concerns that the dwindling populace would increase the strain on key public sectors such as healthcare. Italy already has one of the highest debt-to-GDP levels in Europe at 135%.
"Having a low fertility rate is an issue that doesn't belong to the right or the left-wing political side, it's a national emergency," Senator Lavinia Mennuni of the ruling Brothers of Italy party said last year. "We have to put working mothers back at the center of any political decision."
Italy's population has been falling since 2014, with a total drop of around 1.36 million people during that time – roughly equivalent to the population of Milan, Italy's second-largest city. However, these numbers have been partially offset by immigration as immigrants exceeded emigrants by 229,000 in 2022.
You can share this story on social media: