Olympic medallist calls for Nike boycott
Sharron Davies says that the sportswear brand is showing 'disdain' for women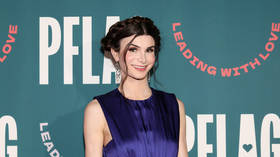 Sharron Davies, the former British Olympic swimmer and vocal critic of transgender athletes competing in women's sports, has called for a boycott of sports apparel giant Nike following its partnership with transgender TikTok personality Dylan Mulvaney.
"Nobody really seems to be listening to the general public," Davies said on Thursday to GB News. "And that's what seems to be incredibly frustrating. So, the only way we can actually make these companies and make governments listen is to boycott with our wallets."
Transgender social media personality Mulvaney – who has also partnered with Bud Light – was featured in Instagram images modelling Nike's range of sports bras this week, clothing which Davies says "doesn't apply" to Mulvaney, who has not yet had gender-reassignment surgery.
"It's just this total disdain with which women are being treated at the moment," Davies added, "Particularly in the world of sport where physiology makes so much difference."
Mulvaney has so far not yet commented on the controversy. Anheuser-Busch, which owns Bud Light, said through a spokesperson that the brand "works with hundreds of influencers across our brands as one of the many ways to authentically connect with audiences across various demographics."
Transgender participation in sports has become a fiercely-debated issue amid a wave of legislative proposals in Republican-led states in the US which have sought to impose various restrictions on trans athletes' abilities to participate in female sports.
Schools and colleges in the US, though, would be disallowed from imposing blanket bans on transgender athletes as part of a provision to existing gender-equity legislation proposed this week by the Biden administration.
Another former Olympic athlete, Caitlyn Jenner, who is transgender, has also joined in the chorus of backlash against Nike, whom she described as "woke" and said that "inclusivity" should not come at the expense of the majority of people.
Like Davies, Jenner has been a noted critic of transgender athletes competing in sports against biologically-born women. Jenner did note, however, that she has no issue with Mulvaney pursuing sponsorship deals, as she has done herself in the past.
Vivek Ramaswamy, the GOP presidential candidate noted for his opposition to so-called 'wokeism,' has also expressed his opposition to Nike's deal with Mulvaney, calling it the "worst kind of woke capitalism."
You can share this story on social media: