Moscow reacts to Blinken's counteroffensive claim
The Russian military is likely to assess the remarks by the US secretary of state, the Kremlin has said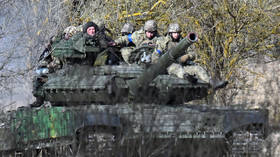 The Russian military will likely scrutinize comments made by US Secretary of State Antony Blinken after he predicted a potential timeframe for a Ukrainian counteroffensive, Kremlin spokesman Dmitry Peskov has said.
In an interview on Friday with Ouest-France and German media group Funke, Blinken stated that the US and its allies should "do everything... to help Ukraine reconquer the territories taken by Russia, including through a counteroffensive, expected in the coming weeks."
In response, Peskov noted that Russia uses a range of information in planning its operations in the conflict with Ukraine, and that Blinken's remarks appeared to be "a statement that is a subject for examination by our military."
"They thoroughly track all the relevant information and take it into account when planning the continuation of the special military operation," the presidential spokesman explained.
Kiev and its Western backers have increasingly talked up a major counteroffensive by Ukrainian forces, supposedly set to take place sometime during the spring and involving tanks and other hardware provided by the West, as well as Ukrainian troops trained abroad.
The advance will reportedly be aimed at restoring Ukraine's borders as they were before 2014. This includes the Donetsk and Lugansk People's Republics and Zaporozhye and Kherson Regions, which all voted to become part of Russia in referendums last autumn, as well as Crimea, which reunited with Moscow nine years ago.
Former Russian President Dmitry Medvedev, who currently serves as deputy head of the Security Council, previously cast doubt on Ukraine's ability to carry out such a large-scale operation, arguing that the claims by officials in Kiev were merely "propaganda."
On Thursday, the New York Times reported that the Pentagon had launched an investigation after a trove of classified data on US and NATO activities to prepare Kiev for a counteroffensive were leaked online. The papers, whose source is unclear, assessed areas such as troop strengths, timelines for arms shipments, and ammunition expenditure. However, they did not state when exactly the operation was scheduled to start.
You can share this story on social media: