Almost two million unexploded bombs cleared after US war in Laos
The Southeast Asian country was the target of extensive bombing between 1964 and 1973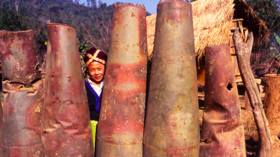 More than 1.8 million unexploded bombs were cleared in Laos between 1996 and February 2023, the Southeast Asian country's Ministry of Labor and Social Welfare revealed this week.
A total of 1,808,254 unexploded ordnances (UXOs) were removed from an area covering 80,000 hectares, making the land safe for farming and other forms of agricultural development, according to Minister Padeumphone Sonthany.
The figures were announced at a press conference in the country's capital Vientiane on Tuesday on the 18th annual International Day for UXO/Mine Awareness.
Laos is, per capita, the most heavily-bombed country in the world. From 1964 to 1973, the US military dropped more than two million tons of bombs on the nation during the Vietnam War – more than on Germany and Japan combined throughout World War II. It is estimated that around 30% of the bombs dropped did not explode.
The US conducted prolonged bombing campaigns – the so-called 'Secret War' – in Laos during the Vietnam War in a bid to disrupt supply lines between the country and Vietnam. The scale of the attacks, which were conducted in secrecy by the CIA, were revealed during a 1971 congressional hearing, as well as by US media investigations.
Of the 1.8 million UXOs removed and safely detonated during the period, 1,056,393 were cluster bombs. Another 4,336 were characterized as 'large' bombs, and 2,456 were landmines. Some 745,069 of other types of munitions were included in the statistics reported by China's Xinhua News Agency, which cited Laotian media reports from last Wednesday.
The report said that 2,846 people had been involved in UXO-related accidents between 2015 and 2022, and that people from 4,092 villages across the country had been educated about the risks posed by UXOs. It added that the munitions continue to pose a grave threat to civilians and remain a barrier to increased agricultural production.
Rice is a key agricultural product in Laos, with over 60% of arable land used for its cultivation.
It is estimated that around 80 million unexploded live bomblets remain obscured in Laos, a product of the 270 million cluster bombs previously dropped on the country by US forces.
You can share this story on social media: