JP Morgan CEO calls for redistribution of wealth
Jamie Dimon suggested governments seize private lands to build wind and solar farms so as to meet climate goals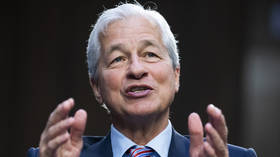 JP Morgan CEO Jamie Dimon has urged governments to seize private property in order to build renewable energy infrastructure, arguing that allowing the market to evolve organically will leave humanity with few options in the face of accelerating climate change.
Warning that "the window for action to avert the costliest impacts of global climate change is closing," the bank executive called for "permitting reforms" in his annual letter to shareholders on Tuesday, arguing "we simply are not getting the adequate investments fast enough for grid, solar, wind, and pipeline initiatives."
"Massive global investment in clean energy technologies must be done and must continue to grow year-over-year," he wrote, insisting "governments, businesses, and non-governmental organizations need to align across a series of practical policy changes" – specifically invoking the use of eminent domain in order to expedite the "adequate investments" in renewable energy.
Eminent domain is the legal process by which the government confiscates private property for public use. More recently (and controversially), however, governments have seized private land under eminent domain for use that primarily (or solely) benefits private corporations, leading some states and municipalities to introduce legislation to protect property owners against what they view as eminent domain abuse.
The Iowa House of Representatives passed a bill last month restricting the use of eminent domain by carbon pipeline companies. Pipeline projects will be required to obtain consent from the owners of 90% of their route before they can wield state power against the holdouts if it becomes law.
While President Joe Biden committed the US to a 50-52% reduction from 2005 levels in greenhouse gases by 2030, Congress remains far from united on the issue of anthropogenic climate change or the importance of reaching net zero emissions.
Later in the 43-page letter, Dimon took aim at the entire American political system: "We need to find a way to more rapidly reorganize our government for the new world" to "adopt new technologies and retrain human capital more quickly." This, he suggested, could be accomplished by adopting a nationwide "industrial policy" along the lines of China's, subsidizing investments in strategic industries like semiconductors, rare earths, and alternative energy sources. At the same time, Dimon called for reining in regulators, repeatedly complaining that too much red tape would "inhibit our ability to make investments and allow infrastructure to be built."
You can share this story on social media: