US getting progressively weaker – Iran
Tehran must be ready to "take advantage" of the shift in global power, Ayatollah Ali Khamenei said in a speech to officials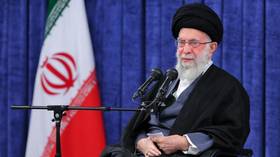 The US is no longer the power it once was, and has failed to rally the Arab world against Iran and curtail its nuclear program, Iranian Supreme Leader Ayatollah Ali Khamenei said in a speech to senior officials on Tuesday.
"Facts show that America was weaker under Obama's administration than Bush's administration. The US was weaker under Trump's administration than the way it was under Obama's administration. The US is weaker under [Joe Biden's] administration than it was under Trump's administration," Khamenei proclaimed, according to Iran's Tasnim news agency.
Khamenei noted that the US has failed to rally its Middle Eastern allies against Iran, declaring that "what has happened is the opposite."
Aside from wielding considerable influence in Iraq and Syria, Iran recently restored relations with Saudi Arabia following talks brokered by Chinese President Xi Jinping. Although not a formal ally of the US, Saudi Arabia has been one of the US' closest partners in the region for decades, and is the world's largest purchaser of American weapons. Now, however, Riyadh has rebuffed Biden's calls to boost oil production and is discussing trading energy in currencies other than the US dollar.
"Furthermore," the Ayatollah continued, "the US wanted to put an end to the nuclear program…through political pressure and sanctions, but it failed."
At present, the US is reportedly discussing a deal whereby Iran would freeze its enrichment of uranium above 60%, in exchange for sanctions relief. Tehran has rejected the proposal, US news outlet Axios reported on Monday.
The Ayatollah went on to note the rise of several "anti-American" governments in Latin America, the declining importance of the dollar in global trade, the political chaos in Israel, and the diplomatic consequences of the EU "taking the brunt of the war" in Ukraine on Washington's behalf as examples of the US' waning influence.
"In order to take advantage of this opportunity, we must increase our dynamism, initiative and activities in foreign policy," Khamenei said.
You can share this story on social media: